So you have a website running on WordPress and want to read some really working and easy-to-apply WordPress SEO tips? Bad news or good news: Which one do you want first?
Good news is, just by installing WordPress you are using one of the most search-engine-friendly cms' out there. (CMS stands for content management system, it's basically the software managing your website's content.)
Bad news is, just by installing WordPress doesn't mean you have any advantages over any other cms. Your WordPress site's ranking can be broken down to a large number of factors. The theme you use, your keyword research, copywriting, general settings, your choice of SEO plugin and it's settings, just to name a few.
Be it WordPress or any other cms, you basically need to follow the same guidelines to achieve good search engine results. But nontheless I tried to gather here some of my tips on how to do it right in WordPress. Read, enjoy and use, and don't forget to mention in the comments if any of these WordPress SEO tips was useful to your results or if you have any other tips to share.
Specific WordPress SEO Tips
Let's start with some SEO tips that you can only apply if you're running WordPress.
WordPress SEO Tip #1: Set Your Site Title and Tagline
Right after installing WordPress, don't forget to set your Site Title and Tagline at Settings » General. For your Site Title use a brandable and short word, I use WPCookHouse here on this site. For your Tagline list your main 2-3 keywords, separated by commas (you might change these later, but this is a good start). Your tagline and site title should not be more than 67 characters combined. (Character limit is 70 in Search Engine Results, but add your separator character with two spaces, like " – " to 67 and you are at 70.)
By default, in the majority of WordPress themes your homepage title will look something like [Tagline] – [Site title]. Also [Site title] will appear appended to every page/post title (You can fine-tune this later with a SEO plugin). And your home page title is what people see first in the SERPs (and of course it has a great impact on what the search engine thinks your homepage is about.)
See this example to better understand this:

Actually this step is more important than you might think. Make a quick Google search on titles containing "just another wordpress site", the default WordPress tagline setting, and see how more than 9 million pages appear that forgot to change this default behavior.
Watch my video below for WordPress Tagline settings and please also see this article on tagline seo.
WordPress SEO Tip #2: Change Your Permalink Settings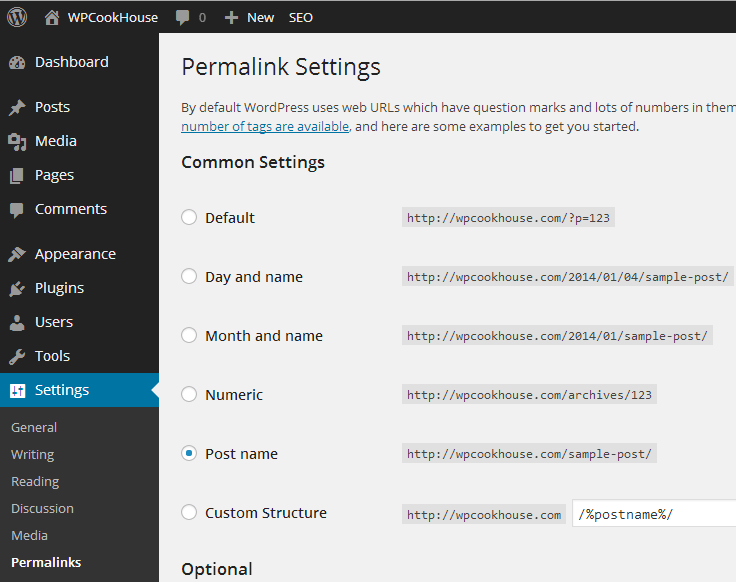 Another WordPress default that needs to be updated as soon as possible is the permalink settings. Go to Settings » Permalinks and change it right after installing your WordPress. Theoretically it doesn't matter what you choose here if you change the default settings. What I suggest is either to choose Post name or set category-name/post url structure by entering "/%category%/%postname%/" in the Custom Structure tab.
Watch my video below where I explain how to set up your WordPress permalinks for maximum SEO benefits:
To understand it better, what you do here is making nice urls aka. search-engine-friendly urls instead of ugly codes. Technically the url of this page you are reading now is http://businesscookhouse.com/?p=332 (try it by clicking on the link). This is not only ugly, but tells the search engine nothing about your page's content. Changing the permalink settings to something nice, the same page will appear as http://businesscookhouse.com/wordpress-seo-tips/, human and search engine readable format. (Try them, both will work!)
WordPress SEO Tip #3: Use the Best WordPress SEO Plugin
Unarguably one of the most important SEO settings in WordPress is the ability to use a great SEO plugin to fine-tune your settings.
If you ask me, there is no doubt for the best SEO plugin out there: WordPress SEO by Yoast. Just click on the link to read more about this great resource.
Believe it or not, just by installing it and letting it do it's work with the default settings, you do more to your site in terms of SEO then with days of hard work.
When you first install your Yoast SEO plugin, there is the option to use the configuration wizard as a great help for quick setup. In this next video I'm going to show you how to use this wizard and how to set up your website when first using the Yoast SEO plugin:
WordPress SEO Tip #4: Use Tagging and Categorizing the Smart Way
WordPress provides a great resource of grouping your articles: categories and tags come with the default installation, but with a little programming you can add your own taxonomies. This is great, but in my experience it can do more harm than good for a novice WordPress user.
So here are a few tips on ho to use "taxonomies" (categories, tags and other grouping terms) in WordPress – or better said how not to use them:
Don't overtag everything. Although very tempting to use every third word from your article as a tag, it has no real value. Novice users often use a lot of tags, so the tag cloud on their sidebar makes their website look more professional. From the search engine's point of view, tags with only one article and two or more tags with the same list of articles can mean duplicate content, one thing you surely want to avoid. I don't even use tags on a new website unless there are at least 5-10 articles.
Don't try to rank with category and/or tag pages. This is very difficult these days, as readers want an exact answer to their question (when typing it in the search box) and not a list of articles to choose from.
WordPress SEO Tip #5: Adjust Media Sizes to Your Theme
This comes down to the download speed of your website, which is a ranking factor for the search engines. (A slow website provides bad user experience so won't rank as easily as a fast one.) Smaller pictures and pictures with the exact displaying size will load much faster then larger files or when the browser needs to do some size adjustment.
In Settings » Media you can set the size of your uploaded media. Set the thumbnail size to match that of your theme's thumbnail size, set the medium size to something you want to use when displaying a picture in your posts. And set the large size with to match your theme's main content div's with.
Also before uploading any picture, make sure you shrink it to a maximum of 1920*1080 – why use any bigger?
Click on the link to read more about WordPress media settings » or watch my video:
WordPress SEO Tip #6: Use Breadcrumbs
Breadcrumbs are that helpful navigation item that show you where you are at on the website, relative to the homepage.
They are very useful navigational items for your audience, they provide powerful links within your site, and they also give a clear picture to the search engine about your site's content. See how Google picks up the breadcrumbs structure in the SERP. This helps not only to rank but to increase the click-through rate from the search results to your website.

Modern WordPress themes generally come with built-in breadcrumbs, so your task is to enable this functionality. If you are not afraid form inserting one line of code into your WordPress theme files, I recommend you to use the Yoast breadcrumb functionality though. It is included in the above mentioned Yoast SEO plugin, and in my experience is far more search engine and user friendly than the majority of breadcrumbs functions embedded in WordPress themes.
WordPress SEO Tip #7: Choose Your Theme Carefully
Last but not least, I have to mention that not all WordPress (including premium) themes are made the same. And this is especially true when it comes down to how search-engine-friendly they are.
How great a theme looks in the demo version has little or nothing to do with how good it will perform when going live. Unnecessarily slow code, lots of unwanted features, even bad coding (ie. printing out the page title) make some themes a nightmare to rank.
And unfortunately I can give you no straight solution on how to decide whether a theme is SEO friendly or not. Read the reviews, try to compare with other themes of the same author, and be bold to test.
Some General SEO Tips, Applied to WordPress Sites
WordPress SEO Tip #8: The One-to-one Keyword Rule
This is actually not a WordPress only SEO tip, but it's extremely useful in a CMS like WP where adding and managing pages or posts is a piece of cake.
The rule goes like this: pick up one keyword for one page (post) on your site. Don't try to rank with several keywords for the same page, pick one and write the content around that keyword. Have 1-3 keywords for your homepage.
Once you become a little more experienced in SEO, you can try to rank one page for more than one keyword, but in the beginning just leave it 1:1 – 1 page for every keyword.
WordPress SEO Tip #9: Narrow Your Niche
So many SEO focused content is being published every day, that you need to narrow your site's content in order to better rank in the search engines for your niche. Read my article on siloing, which gives you an idea on narrowing the content from another point of view.
WordPress is so easy to install, so you can target several niches with several sites. Use WordPress multisite on a shared hosting account, this way you only have to install one instance of WP and pay only one hosting fee. If you use subdomains for your niches, you don't even have to pay for several domain registrations.
Note: you can read different opinions on how to rank several websites. Having lots of websites on the same server is not a ranking factor by itself in my experience. On the other hand, only use subdomains of the same domain if your different subdomain niches are connected in some way.
WordPress SEO Tip #10: Set the Alt Tag and Caption for Your Images
When uploading images, there are a few things you can do to improve your rankings, and WordPress offers very easy solutions to do this. Here is the list you should be taken care of:
First of all: don't forget to use images on every one of your posts. This makes it more desirable to the readers and to search engines.
Rename your media files before uploading. Use something more desirable, other than DSCN_1228.jpg. Use a few words describing your picture, preferably using underscores or hyphens instead of spaces.
When uploading an image, fill out the Title and Alt text, and preferably the caption. Alt text is used when the picture cannot be displayed, and is one way for the search engine to understand what your picture is about. Caption and title might be displayed depending on your theme's settings. My advice here is to describe the picture with a few words, using the main keyword of your page if possible.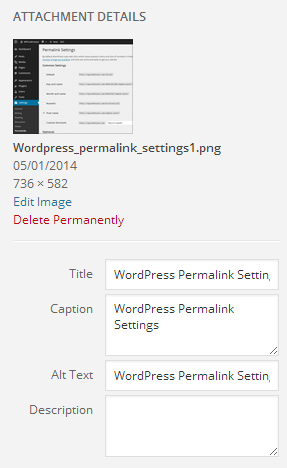 WordPress SEO Tip #11: Set a Desirable Meta Description
For every post or page that's targeting a keyword, take a few moments to write a desirable meta description. This should be 110-156 characters long, containing your keyword and some text that is desirable for the reader to click on.
Don't forget that if well written, this meta description will appear in the search results, being a huge factor for the users to actually decide whether they visit you website or not. The Yoast SEO plugin does a great job on giving you advise when writing your meta description.

Just click on this link to read more detailed instructions on how to set up your meta description in WordPress.
What's next?
Hope you enjoyed my WordPress SEO Tips, and hope you start using them right now to help rank your site better. If you're just starting out with SEO, make sure to read my SEO for beginners guide.
Find a domain name, find a great hosting company, download and install WordPress and start publishing articles today. And don't forget to apply the WordPress SEO tips form this article!
If you need more information on WordPress SEO, don't hesitate to ask me and be sure to check out one of the best online WordPress SEO guide by YOAST and also read my advanced tips on how to improve SEO in WordPress.
I'd like to hear about your results in the comments section below. If you have more WordPress SEO Tips to share with the community, we'd love to hear from you.