Whether you're an established consultant or just planning to start a consulting business, you might be looking for a proven method to get consulting clients.
Sometimes this question is phrased like how to get consulting clients fast even if nobody's ever heard of you? But it's still the same question, with possibly the same answers. How can you acquire new customers or clients, promote your consulting business, and sell consulting services effectively.
In this article I gathered the most important techniques you can use to get your first consulting clients. If you use these methods in the long term, you can build a strong marketing plan based on them and always have plenty of clients.
Consulting Clients Tip 1: Find Their Problems!
The very first thing you should do in order to get consulting clients is to find out the main problems your potential customers have.
Fear is a great motivator. If you can solve someone's problem, saving them from the potentially fearful consequences of the situation they are in right now, your consulting services will always be welcome.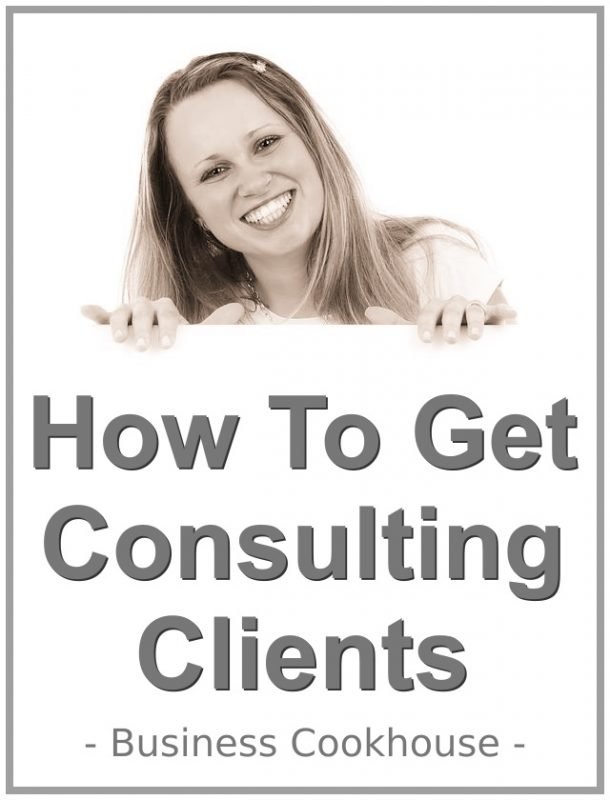 Consulting Clients Tip 2: Networking
Everyone is talking about getting consulting clients online, which sounds good, interesting and very tempting. But let me tell you, this isn't by far the best method when you're just starting out with a new consulting business.
The trick in selling online lies in your credibility. And to build up credibility requires time and money.
The reason you follow people online and take their advice is because you've seen them like a hundred times already. And they've spent a lot of energy – time and money – to get before your eyes. So this is a viable method for anyone who has the resources. But if you're reading this article, chances are you don't want to spend tens of thousands of dollars just to experiment with what's working and what's not.
And this is where networking comes into the picture.
If you have no proven method of getting consulting clients online, find them in real life! Go to networking events, contact your friends and acquaintances. Don't underestimate the power of face to face meetings, especially at the beginning. This is the best way of building your credibility, and to get your first clients as a consultant.
Business Network International can be a good starting point. You can also find (or even create) local networking events at meetup.com. Read this article on which networking groups to join to get more tips when in search of consulting clients.
Consulting Clients Tip 3: Friends & Acquaintances
You'll be surprised to hear how many of your friends and acquaintances actually need your services, or at least they know someone who needs it.
My very first action, right after starting my consulting business, was to send a special letter to all of my friends and business contacts. In this letter I wrote them about my new business, and I also offered them a special 50% discount if they ordered my services. Of course the majority of them did not even reply, but did I have some great clients, even a big international company from just this one promotion!
Call your friends and acquaintances, email them or find any other tool for communication. Let them know your new area of expertise. Ask them about their problems, maybe you'll find something where you can help. If not, ask them if they know someone who might need your help.
Consulting Clients Tip 4: Recommendation
One of the strongest tools of a sales person (BTW don't forget that you're actually a sales person when you're trying to find clients) is getting recommendations.
Ask for recommendations, and this will be the fastest route to get new clients.
Recommendations from your existing clients.
Recommendations from everyone who says no to you when trying to sell them.
Recommendations from your family members and your friends.
Even recommendation in an online community. If you're pitching in a Facebook group, you're likely not welcome. But if you post a question about which areas of life or business you can help in, and ask people to tag their friends who they might think would need your help… it looks completely different doesn't it.
Consulting Clients Tip 5: Partner With Others
In this tip my advice is to make partnership with people who already have contacts to your ideal consulting clients. Let me explain this with my own example.
When I started out as an SEO Consultant, one of my best sources of getting new clients were website developers. Once I had a new client, I had to work together with their developer. And as they realized that I could really improve search results, they (or at least some of them) started to recommend me as an SEO consultant to their other clients.
Your ideal clients are already spending their money with someone. Find that someone and partner up with them!
Consulting Clients Tip 6: Free Service
Generally I don't recommend consultants to provide any type of free service, but when you want to get your first clients and build up your reputation, this method can actually be used wisely.
The only thing you have to do is pitch your cold contact to get something that is either completely free for them, or with a price way below it's real value. You can do this on the phone, or you can send out emails or even regular mails.
A free service can be a free analysis, a 5-10 minute consultation, a free book where the customer only pays for the shipping (called a tripwire) etc.
Of course phone calls are the most effective, but you can also succeed with mails. Don't forget about quantity though. You might need to send out 100 mails to get one response, and that's totally normal in our communicationally over-saturated era. So don't be afraid to send out 1000 or even more mails to see some real results.
Back in the days I used to have a free SEO website analysis. It was completely free and I did it manually. But I could sell to 1 of every 2-3 people asking for it, so it was really worth the time and effort. And it wasn't hard to pitch people on a 100% free website analysis that could actually help them.
Consulting Clients Tip 7: Newsletter
You should start building your own email list right from day 1. I mean really. You should.
Your email list will become your most precious asset in the long term when it comes to getting clients as a consultant. It is a direct communication channel to people who are interested in your services.
Just a few tips here on how to get subscribers to your email list. Please note that regulations vary by country, and not all methods might be legal where you reside.
Use a popup on your website.
Add your existing clients to your list.
Add your contacts who you've met through networking.
Partner with other people who already have a list in your target market.
Run ads. This requires some extra knowledge and money, but once you've learned how to do it, running ads to get email subscribers might become the solid basis of your consulting business.
Your Take On Getting Consulting Clients
Let me know in the comments down below what is your tip or best practice on getting consulting clients. Or if you have any questions about this topic, I'll be happy to help.