It always feels like a real challenge how to choose a WordPress Theme, the best one for your project.
You're about to start a new site or giving a new life to an old one. Most likely you have some clear plans about your new site: a clear vision how you want it to look like, what features you want etc.
And then comes the reality of finding the right WordPress theme. Sometimes you succeed, but sometimes after installing you realize that it's a piece of crap. Some themes can be so useless that you even have to start browsing for another one.
Here is what you get in this post: 7 tips on how to choose a WordPress theme
I purchased and installed quite a few WordPress themes, and have to tell you that I too had both wonderful and awful experiences. The truth is, I still can't give you one simple answer on how to choose the best WordPress theme – I hope you'll understand why once you've read this post.
But anyways I wanted to share my tips with you on how to choose a WordPress theme, which are all based on real life experiences.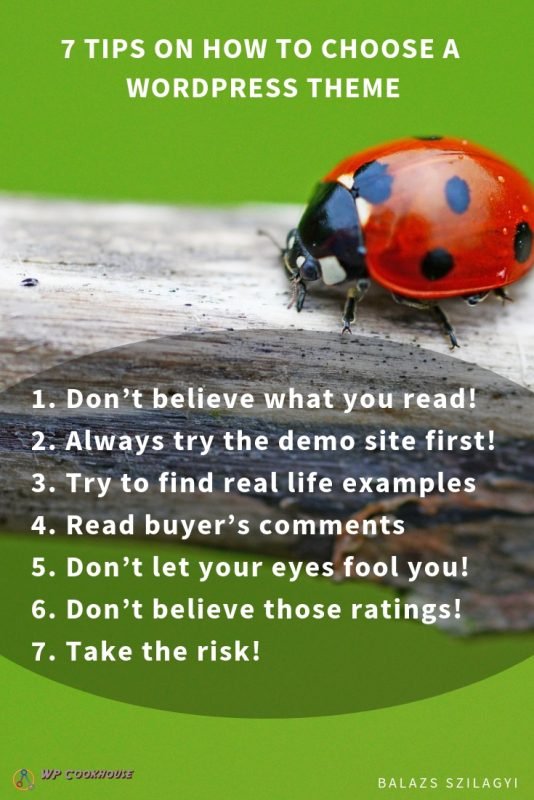 How to Choose a WordPress Theme Tip #1: Don't believe what you read!
You just can't trust any WordPress theme reviews that you find online.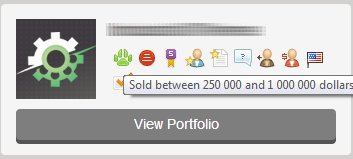 Selling and advertising WordPress themes is a huge business. Just picking up the first elite author on one of the sites that sell themes, I see a badge that they sold between 250 000 and 1 000 000 dollars in the last five years. Yes, that's at least 50 grand per year for one author on one marketplace! And according to the stats, their last theme made over $15000 in less than 3 weeks.

You must know what (and who and how) drives that business!
Plenty of affiliate marketers make their living by advertising WordPress themes. They rank for related keywords in Google, so when you search for let's say "wordpress recipe theme", what you get is a list of website that try to attract you with their content in order to make some affiliate income.
Yes, that's me on the 5th place but more about this later: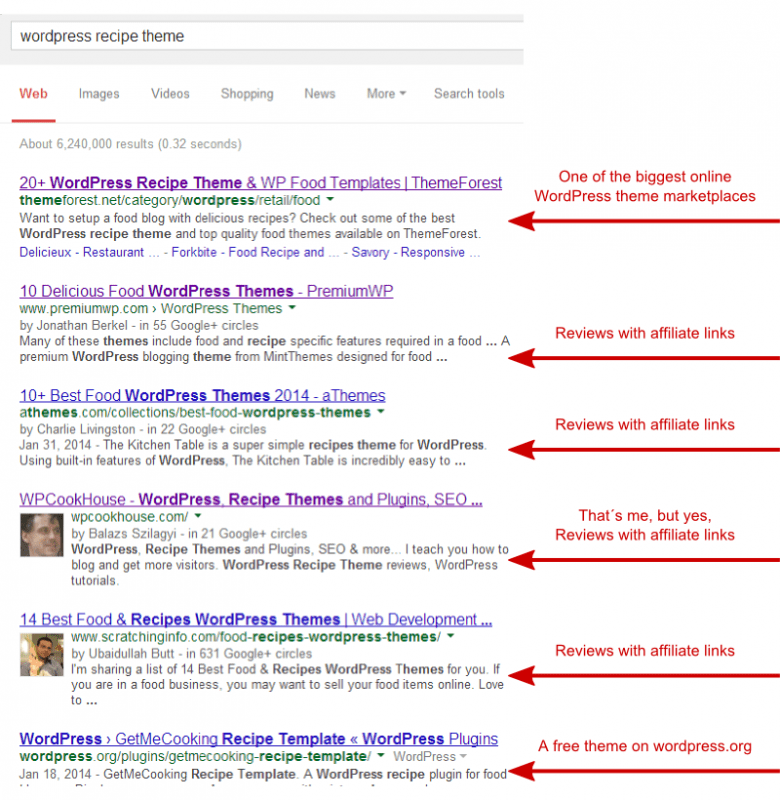 So it all comes down to money. Don't get me wrong, I have no problem with affiliate advertising. I do it. But when it comes to choosing the right WordPress theme, you just can't always trust sites that make money by driving sales to marketplaces. There will always be a chance that those themes with higher commissions will get better reviews and more links.
How to Choose a WordPress Theme Tip #2: Always try the demo site first!
Most WordPress theme marketplaces offer a live demo site (or live preview). That is you can see your desired theme in action. I suggest you always try this demo version before buying anything.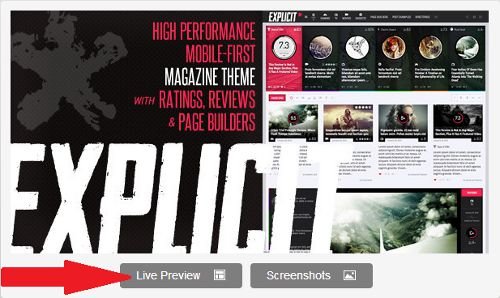 But never forget that these demo sites are basically sales pages – selling the theme itself. So here are my tips on what to look for in the demo pages:
Demo sites usually use expensive stock photos to make them look more desirable. These pictures are never part of the package. What you get is a pure "skeleton" that you have to populate with your own pictures. Or actually you can purchase stock photos too, but you'll spend much more on them than the price of the theme.
Look carefully for the loading time or any issues of the demo site. Just imagine, if the demo site loads slowly, has any issues, how would it behave in real life with lots of content?
Demo sites are set up in a way that they look desirable for you and not your readers. Always think about what would you use this theme for, and if the good-looking features are really useful or not.
How to Choose a WordPress Theme Tip #3: Try to find real life examples
This is usually hard to find, but if you have the chance than go and look for real life examples. Sites that are using the theme live are the best examples how this thing would look like if you bought it.
Sometimes you can find links to real life examples on the theme's sales page, but this is usually rare.
Another option is to go trough buyer's comment (also see next section). Sometimes buyers include links to their site if they have any issues. This is a good chance to click on this links and check what the real life example looks like.
Hint: one indication of a less useful theme is if I find that half or more of those sites are now using another theme. This means that since the time of commenting they found it more useful to change to another theme. Not a good sign.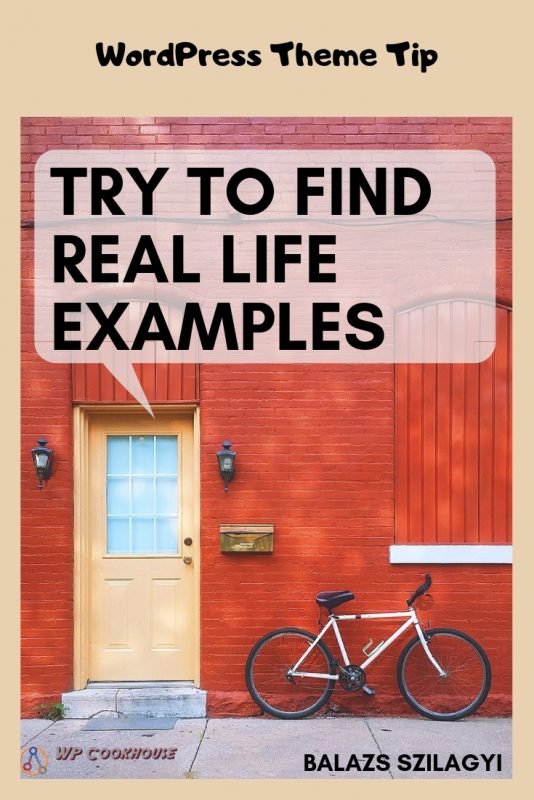 How to Choose a WordPress Theme Tip #4: Read carefully all buyer's comments
Going trough buyer's comments (if there are any) is also a good indication. You can see what those people that actually spent money on that theme are thinking or troubling with.
Bugs or issues do not necessarily mean that you shouldn't buy the theme. On the other hand, if there are no responses to those issues from the developer, or if there are offensive responses (yes, that happens), I would think it twice.
Also if people are complaining about speed issues, unresolved set up problems, you might be looking for another theme.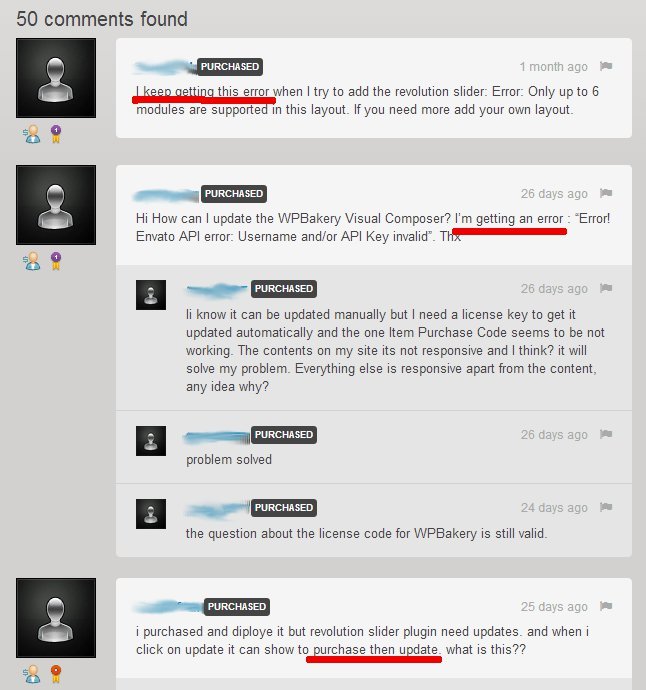 How to Choose a WordPress Theme Tip #5: Don't let your eyes fool you!
It's not always true that what you see is what you get.
What you see is a nice demo site with lots of professional pictures – each one costing $5 or more for the developer. What you get is a pure skeleton, without any pictures.
What you see is a nicely written sales page with ton of features. What you get is sometimes an extremely slow theme, just because all those unnecessary features.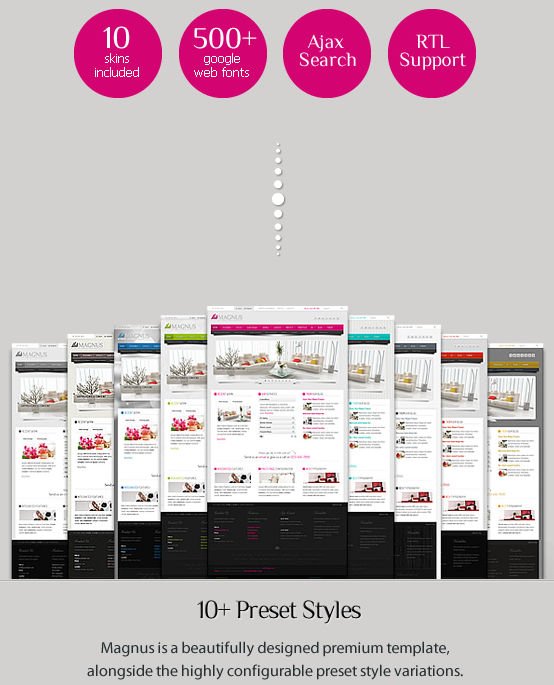 How to Choose a WordPress Theme Tip #6: Don't believe those ratings!
I tend to think that ratings have nothing to do with the actual usability of a theme. Here is why I think that.
Sometimes anyone can make their rating, regardless of if they actually bought the theme or not. This means that the rating is not for the theme, but more for the sales page or the setup (the stock photos) of the demo site. If the demo site looks great, it'll get good ratings.
The same might be true for buyer's ratings. Buyers are usually asked to rate the theme right after purchasing. Thus they don't have the chance to actually look carefully what the theme offers for them.
I think that people sometimes rate based on the features. The problem with this approach is that too much features often make your site extremely slow, hard to set up or even cause compatibility issues. And one more thing. Features that look great at the beginning might turn out to be limitations once you want to have freedom with publishing content on your site. One example: adding steps to a recipe with a click of a button looks promising first. But later when you want to add a picture to each steps, this turns out to be a mission impossible. (This is exactly what happened to me after installing Food & Cook Theme.)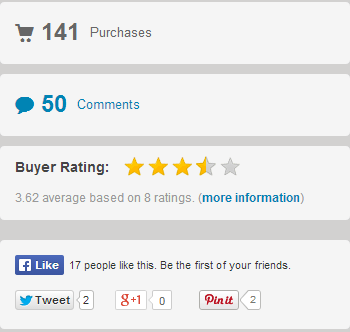 « This is actually a real life example of how ratings can fool you.
I bought this particular theme for a client's site (that time back it had a 4.5 stars rating). The theme looks great, but it's extremely difficult to set up. So many options and possibilities that make it a nightmare to set up even on a simple site.
So even if 3.62 are not that good of a rating, you would think that it's worth trying. Actually the truth is that I would never recommend you buying this theme (or buy myself again) or any theme using the framework that this theme uses. (BTW this is not Food & Cook Theme.)
How to Choose a WordPress Theme Tip #7: Finally – take the risk!
WordPress themes are relatively easy to get/install/change these days. The worst thing you can do when building a website or starting a blog is procrastinating. So please don't hesitate to buy and download the theme that seems to fits your needs best. Just take the risk and buy yourself that theme!
And if after reading through all my advices you think that there is no perfect theme that you should buy, you might be getting it wrong. Yes, I doubt there is even one perfect theme unless it is completely tailor-made to your needs. But this shouldn't stop you buying what suits you best, and starting your site.
Using a pre-made WordPress theme will always imply some limitations and trade-offs comparing with a tailor-made theme. But out-of-the-box themes costs $40-70 compared with the design and programming costs of $2000 and more of a tailor-made theme!
Remember: if you don' buy a theme now, you won't start your site. But if you buy a theme today and start blogging, you can easily make enough money to change your theme in a few months time.
So go out browsing, buy and install the WordPress theme that best suites your needs. Just be sure to take all the cautions this post is about.
Why I stopped reviewing WordPress themes (the way I used to)?
First I have to clarify that I have no problem with affiliate marketing, it's an important part of our economy and a great way to make money for anyone even from their home.
But I know that I can only advertise products that I'm 100% satisfied with – or at least I have the chance to write about the downsides. (Just because I don't like something, it can be useful for somebody else with different needs.)
We used to review themes here on WPCookHouse just by looking at the demo site. And this just leaves a big room for misinterpretations and even our reviews were based on sales pages and not on real life usability.
What I stopped doing is actually making WordPress theme reviews without installing those themes first. So one thing that I can guarantee you: as of today, all reviews on this site will be based on real life examples, sites where we actually used and installed that theme (Food & Cook Theme being the first). And we will list all pros and cons that we found using it. This way you can be confident that our reviews won't be simple marketing BS, but useful tips.