Meta description is one of the most important SEO signals on your website. It not only tells search engines what your actual page is about, but this is where your would-be visitors decide if they click on your site at all. Setting meta description on a WordPress site is pretty straightforward, but there are a few tricks you should know.
In this article I'd like to help you setting up your meta description for all type of pages (front page, posts, taxomony pagest, etc.) of your WordPress website.
Meta Description WordPress Post Settings
Posts are the most widely used type of content on a WordPress site, so this is the first one you need to learn when setting up meta descriptions.
And here comes the first and most important trick. Although WordPress is a pretty SEO friendly content management system, there is no way to set up meta description on posts (or in fact any other type of pages) right out of the box.
You need to install a plugin first that allows you to set up meta description for WordPress. My recommendation is the free Yoast SEO plugin, which is the one I've been using for years, and will do the meta description trick for you.
After installing, you see a section titled Yoast SEO below your posts on the admin panel. It looks like the way your post would appear in the SERPs. Just click Edit snippet, and fill out the Meta description section with the text you'd like to appear in Google.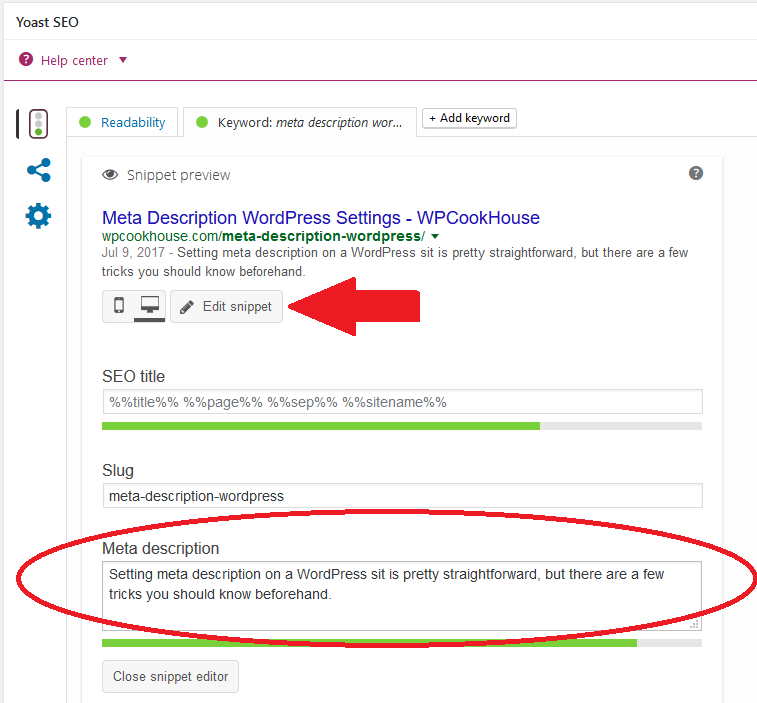 Meta Description WordPress Page Settings
Once you know how to set up your meta description for a WordPress post, doing it for a page is pretty straightforward.
It is basically the same method. Just head over to the Yoast SEO section of your page dashboard, and fill in meta description just like above.
Setting Up Meta Description On Your WordPress Front Page
Having a good meta description on your home page is extremely important. Yet this is sometimes even more difficult, as there are two possibilities of displaying your front page in WordPress: as your blogroll or as a simple page.
Fortunately, Yoast SEO comes in handy again, and makes setting your front page meta description easy as pie in WordPress.
Click on SEO » Titles & Metas on your WordPress dashboard, then Homepage. You have two possibilities from this point on:
If you display your latest blog posts on your homepage (this is WordPress default), you can set up your front page title and meta description right there (meta description template).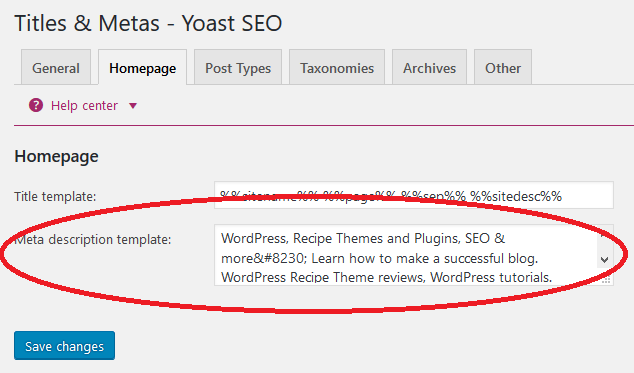 If your homepage is a WordPress page, you'll see a link to your actual page saying You can determine the title and description for the blog page by editing the blog page itself ». Just click on the link and set up your WordPress homepage meta description as you would do with a regular page.
Meta Description Setting On WordPress Taxonomy Pages
You might also want to set up meta description for your taxonomy pages (categories, tags, etc.) if you use them as SEO landing pages. (BTW you should, but that's another story.)
Again Yoast SEO comes in handy. And this is one of the benefits of Yoast as a WordPress SEO plugin; you can in fact fine tune title and meta description on every page, even on taxonomy pages.
Just head over to your taxonomy page in your WordPress dashboard, scroll down and you'll see the familiar Yoast SEO settings. Click on Edit snippet to edit your taxonomy title and meta description.
Using Meta Description Rules In WordPress
If you have a lot of pages (posts, taxonomies, etc.) with similar content on your WordPress website, it might be clever to use a so called meta description rule.
This works like a template. You only have to write your meta description once, then let your WordPress (with the help of Yoast SEO) take care of displaying it with the right keyword.
If you're running an ecommerce store for example, you don't want to write a meta description for each one of your products. Or if you have a site like a recipe blog, with hundreds of taxonomy pages for different ingredients, you might want to use the same basic meta description pattern for each of the ingredient taxonomy pages.
If you check the SEO » Tiles and Metas section of your WordPress dashboard, you'll find that you can set up meta description templates indeed.
Just click on Help center, then see the list of Basic Variables and Advanced variables you can use for your meta description templates.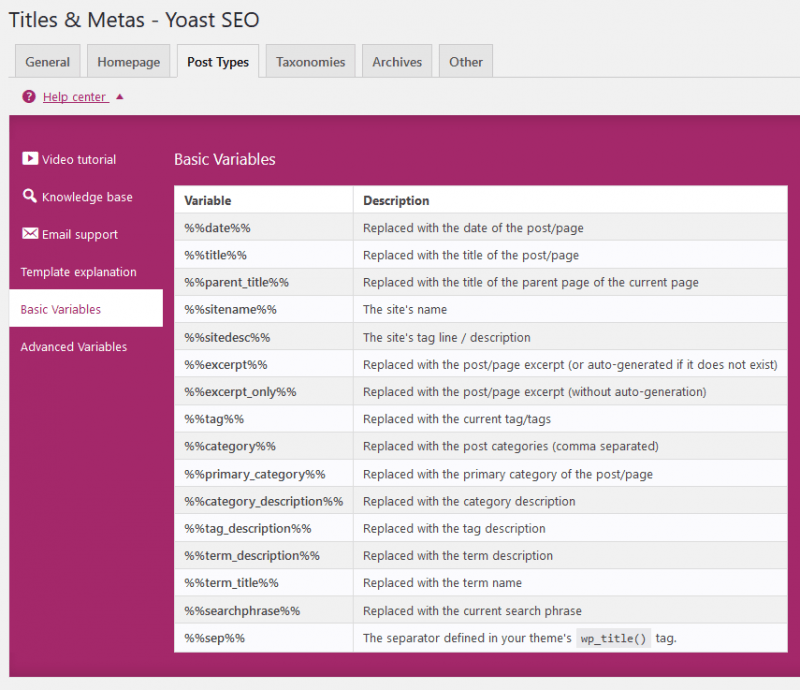 Here is an example where I use a meta description template along with custom variables (added as custom fields on a WordPress page) to display the same text except for the city and state for my local SEO pages.