WordPress is a very powerful tool for publishing your blog or almost any website. In this article I'm going to show you the nuts and bolts of WordPress initial setup with the 8 most important tips, so it can help you run your WP site smoothly and also help bring in targeted traffic from search engines and other sources.
You can, and in most cases you should change some of these settings later as your site evolves and you'll get to know WordPress better. But if you follow this simple WordPress initial setup process, you can be sure that your site will be up and running and "healthy" since the beginning.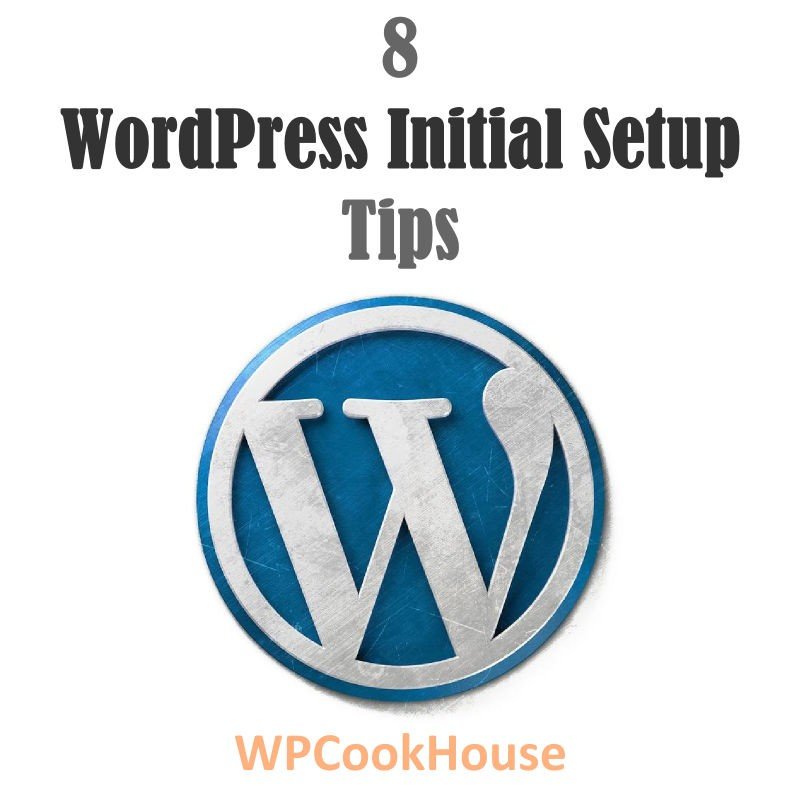 WordPress Initial Setup 1: Permalink Settings
One of the most important things you need to change during WordPress initial setup is the permalink structure. This is basically the structure of the string what comes after your domain name in the url of your pages or posts.
The initial WordPress setting is very ugly, a php code like http://yoursite.com/?p=1283. This works in the browsers, but readers and most importantly search engines don't like it very much. It is not nice, it doesn't tell anything about the content of the page to the visitor.
To fix this go to Settings»Permalinks in your WordPress admin panel and change your permalink structure to whatever you want but the initial setting. What I recommend in most cases is simply selecting post name.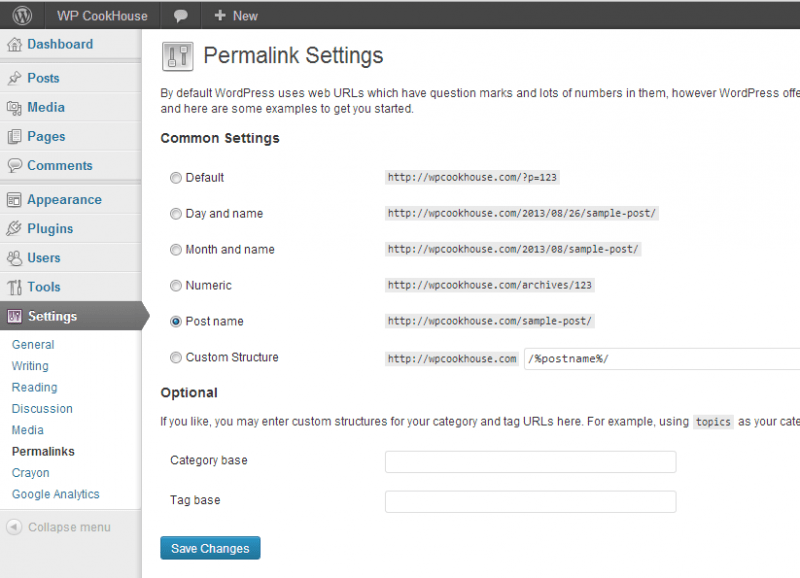 In some cases you might want to show your category name in your url. I recommend doing this only if you plan to have plenty of posts, or if you are familiar with SEO settings. To do this select Custom Structure and write /%category%/%postname%/ in the text box.
To show the date in your url I think is only useful if you are running some kind of a news site, with tons of posts published every single day.
WordPress Initial Setup 2: Media Settings
Disable the monthly folders
In Settings»Media you should disable the option "Organize my uploads into month- and year-based folders". Organizing your media into subfolders is not needed in most cases, unless you plan to publish posts and media files at least a few times a day. It only makes your directory structure less desirable to search engines and more difficult for you to find your media files later.
Make your media folder inaccessible to the public
Another thing worth to do during the WordPress initial setup process is copy a basic php file to your wp-content/uploads folder and name it index.php. The reason for this is that you might want to prevent someone easily browsing and downloading all your media files in that directory. This file will show an empty blank page to the visitor instead of listing all your media files. See the example below.
Change the default media sizes
The exact sizes vary by the theme you use, but I recommend you to change your Large size to you post div width or something smaller. This way you can publish your picture in large size, and they'll look nice in your theme. Go to Settings»Media and enter the desired size. If you don't know your post div width, don't worry, you can do this later.
WordPress Initial Setup 3: Date and Timezone Settings
After installing WordPress I always change my date and timezone settings. This might be not that crutial for English bloggers. But because I blog in two languages, it is especially important for me to set up the correct date format for my Hungarian blogs.
Setting your blog's name and tagline
Under Settings»General the first two things you find are Site Title and Tagline. For Site Title you should set your blog's name, and for Tagline you can put your most valuable keywords. You can always change these later, but I think these initial settings are much better than the WolrdPress default "Just another WordPress site".
WordPress Initial Setup 4: Rename your default category
WordPress comes with the very useful option of categorizing your posts. The drawback of this functionality is that you must include every one of your posts in at least one category.
This is not that easy in the beginning, when you're only planning your posts, not even thinking about how to organize them later. But the default category name "uncategorized" is so ugly that you don't want to leave it that way.
I suggest you use a category name that is descriptive to your first posts, ideally including some of the keywords you want to target later with SEO. Eg for a food blog it's a good idea to choose "recipes". If you have no better idea, choose something like "ideas" or even simply "Blog".
Go to Posts&Categories, move your mouse on the category name "uncategorized", then select Quick Edit. Change the name as stated above. You should also change the slug for that category. This should be the same as the category name, but no special characters, and with dashes instead of spaces. Simply click "Update Category" and you're good to go.
WordPress Initial Setup 5: User settings
Change the way your name is displayed
You should set up how your name is displayed. By default WordPress is displaying your username at the top of your posts as the author. In most cases what you want is your real name or a nickname other than you login name, so go to Users»Your Profile, and simply select your desired form at "Display name publicly as".
WordPress Initial Setup 6: Set up menu(s)
Almost every WordPress theme comes with at least one built in menu. To make this work, you have to configure your main menu, otherwise a list of your pages will be shown in your main menu.
Since WordPress 3.6 you can do this by the following steps:
Go to Appearance»Menus.
Name your first menu (at Menu Name). Take whatever name you want, I usually use "Main Menu" so it's descriptive enough for me to know where it should be used.
Click on "Create Menu".
Under Menu Settings, don't forget to check the box where it says "Theme locations" for your menu to show up. The name there depends on your theme, usually Main menu, Menu or something similar.
You can drag and drop pages, categories, custom links to your menu, and don't forget to save it.
WordPress Initial Setup 7: Set up widgets
WordPress widgets are a very powerful tool to increase pageviews or even income on your site. But again when you barely have content, it's just annoying to display that meta section, the one and only category and a useless date archive what comes built in with WordPress.
There is no golden rule for this, but as a WordPress initial setup, with very few content here is what I advice you to display in your widget area (go to Appearance»Widgets and drag and drop the widgets that you want):
A subscriber's area. If you have a free eBook, advertise it with a subscribing form. If you don't have an eBook yet, create one! But even if you don't have anything to advertise, just start collecting emails by offering weekly updates to your readers.
List your latest post, considering that you have at least three.
Some advertisement. Register for a Google AdSense account, it's free and easy. It won't make you millionaire if you've just started your blog, but it'll allow you to monetize your nice little digital child right after the first week of its conception.
WordPress Initial Setup 8: Search Engine Visibility
Everyone wants to be visible by the search engines, and show up in the first page for as many keywords as they can. But this is not an easy task, and I can assure you that if you have a site under construction, without any consolidated and useful content, you won't have high rankings.
That's why I always turn off search engine visibility when installing a WordPress site (during the installation process you are asked about this).
Once I have at least 2-3 good posts (but at least 1!), I go to Settings»Reading, and uncheck "Discourage search engines from indexing this site". Please note that for Google it takes a few days to rediscover your site and index it after unchecking this option.
WordPress Initial Setup 9: Must Have Plugins
This is going a little bit further than a simple WordPress initial setup, but if you want your WordPress site to really work, I recommend you to install these free but powerful plugins:
WordPress SEO. This is a must if you want your blog to show up in search engines.
Redirection. After a few changes in post names, this plugin will come handy.
Akismet comes with your WordPress install, you only have to activate it and get an Akismet key. It filters out spam comments, which can be overwhelming once your site starts to get real traffic.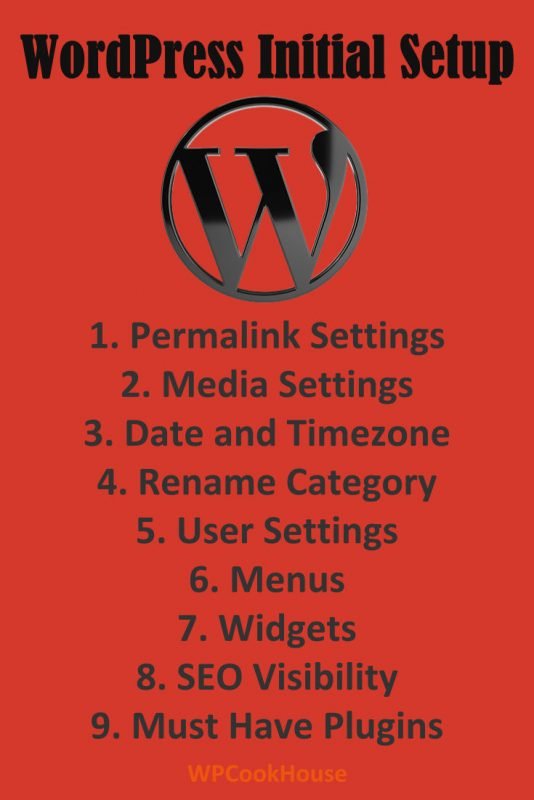 Settings icon by Double-J Design.