If you have a WordPress site and want to give it a boost in the Search Engines, you must go through this WordPress SEO Checklist.
Here I'm going to share with you everything you need to check in your WP website in order to give it an initial boost. But please note that you should do much more work than simply go through a list in order to get steady traffic from search engines – most importantly publishing articles. Please check my WordPress SEO Tips article to learn more tricks about how to set up your website or download my complete free SEO checklist to understand how SEO works.
WordPress SEO Checklist
In this first part I'm going to share with you the simple WordPress SEO checklist you need to go through every time you install a new website or start working on SEO. Continue reading to see a more detailed instruction on every step with tutorial videos.
Make sure your WordPress website is visible to search engines.
Use a WordPress SEO plugin
Set up your title and tagline
Use the right permalink settings
Adjust media sizes to your theme
Use meta description on all your posts and pages
Use images the right way
Continue publishing your awesome content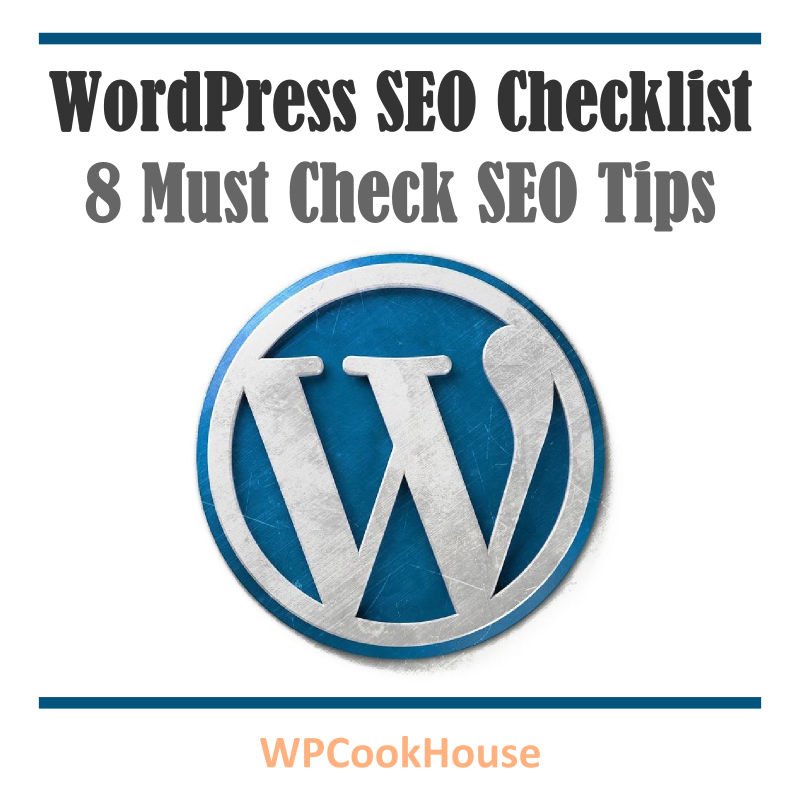 WordPress SEO Checklist #1: Is Your Site Visible?
Make sure your WordPress website is visible to search engines.
Go to Settings » Reading on your admin panel, and make sure you unselect "Discourage search engines from indexing this site".

WordPress SEO Checklist #2: Use A WordPress SEO plugin
WordPress is SEO-friendly by itself, but many functionalities are unavailable with a plain install. You need to install a separate SEO plugin in order to enable everything that search engines need.
Install a good WordPress SEO plugin. My recommendation is YOAST SEO, I've been using it since the beginning on all of my websites.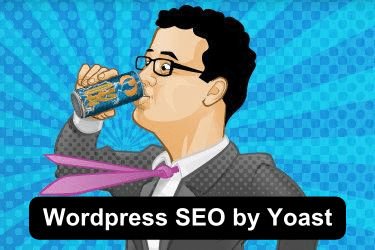 WordPress SEO Checklist #3: Title And Tagline
After installing WordPress, you must set up (change) your site title and tagline. Please read my article on how to use your tagline for better SEO to learn more.
Go to Site Title and Tagline at Settings » General, and change your site title and tagline. For your Site Title, use a brandable and short word (i.e. your brand name), for your Tagline, simply list your main 2-3 keywords, separated by commas.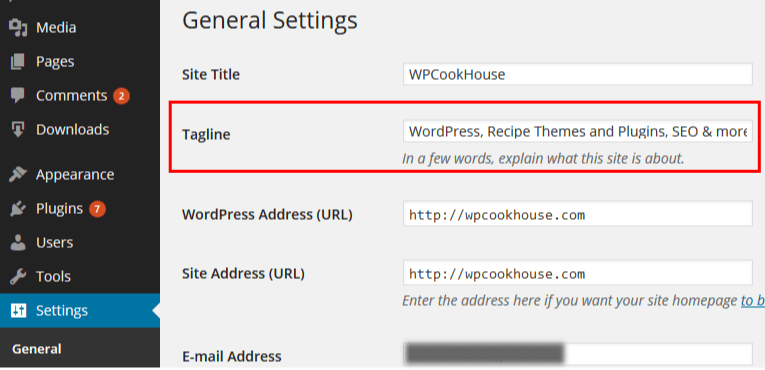 WordPress SEO Checklist #4: Use The Right Permalink Settings
The way your permalinks (i.e. the part of your page's url after your domain) are set up can make a huge difference in your SEO results. If you're new to SEO, the best setting is "Post name".
Go to Settings » Permalinks, and select Post name. Make sure to save your changees.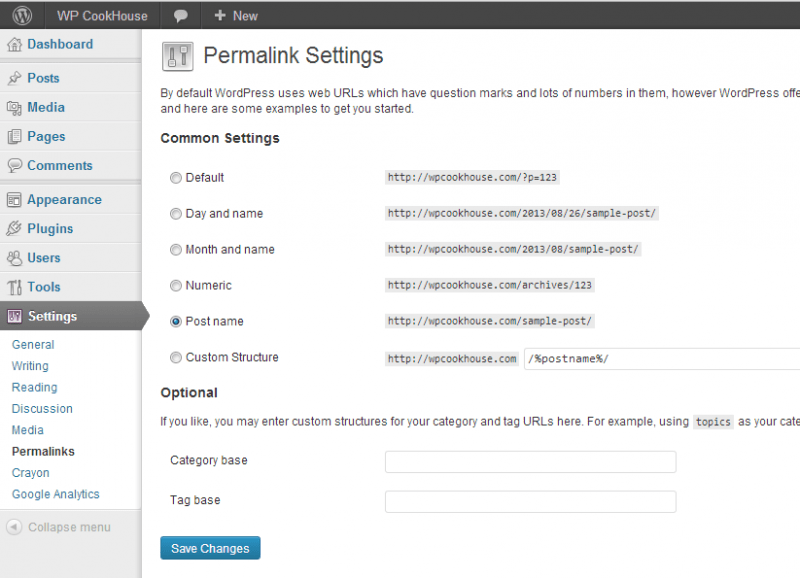 WordPress SEO Checklist #5: Adjust Media Sizes To Your Theme
This comes down to the download speed of your website, which is a ranking factor for the search engines. (A slow website provides bad user experience, so won't rank as easily as a fast one.) Smaller pictures and pictures with the exact displaying size will load much faster then larger files or when the browser needs to do some size adjustment. Read more about WordPress media settings by clicking on the link.
In Settings » Media set the size of your uploaded media. Set the thumbnail size to match that of your theme's thumbnail size, set the medium size to something you want to use when displaying a picture in your posts, and set the large size with to match your theme's main content div's with.
WordPress SEO Checklist #6: Use Meta Description
A proper meta description is one of the main ranking factors in SEO. However, some people don't even fill in the meta description for their content.
In order to use meta descriptions in WordPress you need an SEO plugin, but we've covered that already in step #2.
Make sure to fill in the meta description section for every one of your articles. You can find this below your articles in the admin panel, in the YOAST SEO section. Read this tutorial on how to set up meta description correctly in WordPress for maximum SEO benefits.
Check all your published articles. If not filled in, write a compelling meta description.
Make sure to use this function every time you publish an article in the future.
WordPress SEO Checklist #7: Images
When uploading images, there are a few things you can do to improve your rankings, and WordPress offers very easy solutions to do this. Here is what you need to check when uploading an image:
Use images on every posts. This makes it more desirable to the readers and to search engines.
Rename your media files before uploading. Use something more desirable, other than DSCN_1228.jpg. Use a few words describing your picture, preferably using underscores or hyphens instead of spaces.
When uploading an image, fill out the Title and Alt text, and preferably the caption.
Go through all your previously published articles, and check the images. Reinsert the same images with the changes above if needed. Don't change the filename of already published images though as this might break search engine indexing, but start using descriptive filenames from now on.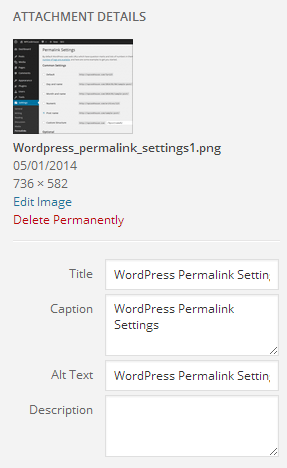 WordPress SEO Checklist #8: Continue Publishing
This might seem like something that doesn't fit in a WordPress SEO checklist, but believe me, this is the most important part. In fact, this is that step your SEO success will depend on.
The settings might be important, but what's key for SEO success is the right content. You need to start researching keywords, publishing content targeting every single keyword in your niche, and than continue tweaking your website. As the old saying goes, Content is King.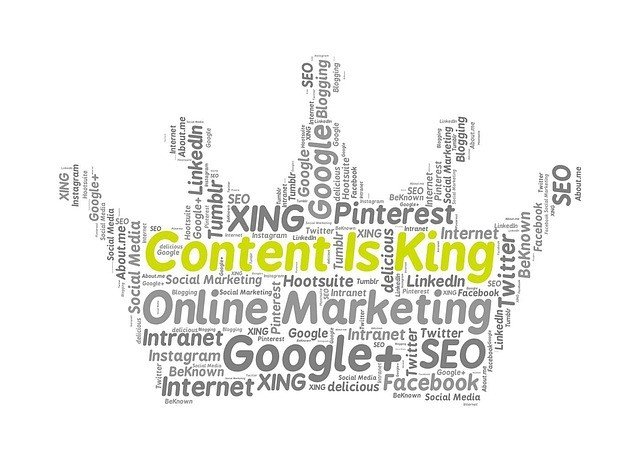 If you think you might appreciate more information on what to really check on your website for maximum SEO benefits (including content), make sure to download my free SEO checklist just by clicking on the link.