Search Console, GSC for short, formerly known as Webmaster Tools, is a completely free tool from Google which is absolutely needed for good SEO results. But what exactly is Google Search Console and how can it help you with your rankings?
In this article I'm going to give you a basic introduction, a beginner's guide to Google Search Console. I also have a video that shows you what Google Search Console is, you might want to watch that too.
What Is Google Search Console?
Google Search Console is a dashboard for your website to see what's happening in Google. It helps you understand how your website is performing in the search results, what are the biggest culprits etc.
It is completely free, and I would say that even if you are not a search engine optimizer, you are just owning a website and you want any kind of traffic from Google, then you should consider using Search Console.
Google Search Console Vs. Google Analytics
If you are using Google Analytics or if you are familiar with it, that's a tool that shows you what's happening on your website. Search Console on the other hand is showing you what's happening before someone comes to your website.
A few things to note here though.
Google Search Console only shows organic traffic coming from Google. So while Analytics will show you any kind of traffic on your website, Search Console will only show you one specific type of traffic, that is organic search traffic coming from Google.
A few types of traffic that don't show up in Google Search Console
Paid ads
Social media traffic
Direct traffic
Visitors coming through links
Traffic from other search engines such as Bing.
Search Console is still a very useful tool as it will show you how your website is performing in Google. And of course it will give you hints on what you should do if you want to improve your rankings.
Search Console Reports
Google Search Console has several reports to show you how your website is performing or what the biggest culprits are.
The Performance report is the most important one. It shows you what keywords your website is ranking for with which page, and what are your actual rankings. Even if you are using just this one report and even if you are looking at this only once a week, I would say that you do more in order to improve your website's rankings than 95% of website owners.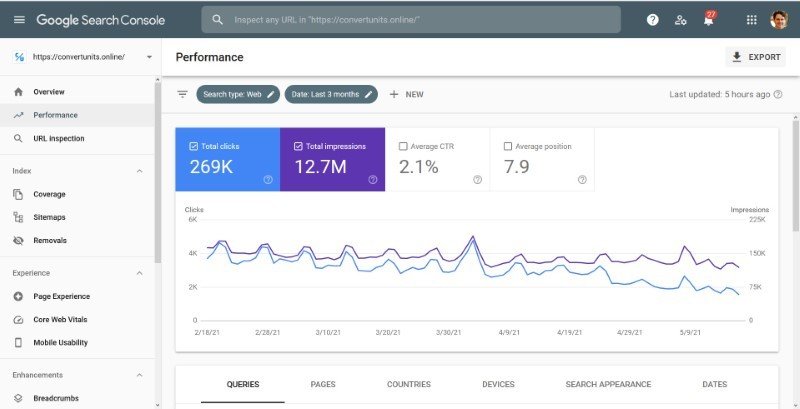 Other reports in Google Search Console include:
Coverage (which pages on your site are "working" OK and which might have problems)
User experience (page load speed, mobile usability etc.)
Links (both external links and internal links)
Enhanced results (e.g. recipes, videos etc.)
Reports about security issues and manual actions (hope you avoid those)
GSC also lets you share these reports with your co-workers, using their own Google account. So you can share your data with your digital marketing assistant, your SEO or anyone who is involved in the process of making your website more useful.
In addition, if you own or handle more than one website that's also not a problem. GSC lets you add several websites and handle them with one single Google account.
You Can "Communicate" with Google
Search Console also gives you the opportunity to "communicate" with Google.
You can submit sitemaps and you can fix issues based on the reports. Once you've fixed an issue, you can let Google know that by submitting your changes through GSC. So it is a very useful tool indeed.
Start Using Google Search Console
I highly recommend that you start using Google Search Console if you haven't already done so. And there is one more reason why you should register your websites right away.
GSC will only show you results starting from the day you first add your website to it. So if you add your website today, even if it's not performing well in Google or if it's brand new, in one month time or in three months time you are gonna be able to see the last one or three months' performance in Google.
On the other hand if you are waiting for your site to have better results and only then add it to Search Console, then you'll miss out on the opportunity to see what happened before to your website.
So again, I would strongly suggest that you go ahead right now and add your website or your websites to Search Console. This way you can start monitoring your performance right away.
I'll soon publish another article on how to add your website to GSC. Or simply head over to Google Search Console and follow the instructions.