SEOs around the globe agree that your page title is one of the most important technical elements of on-page SEO. Your title serves two purposes at the same time, but more on that later in this article. But what is the ideal SEO title length? How long should it be so that it could give you the best possible SEO results? Is there a character limit for your meta title so that it would be displayed?
What Is An SEO Title?
SEO title, meta title or page title is the title of your web page that's shown in the upper little tab of the browser. Often times it's truncated in your browser, most people don't even realize that they can actually change that snippet. The SEO title consists of the actual title of your article, appended by your brand name.

But your meta title has two very important impacts on your SEO results:
Your title is one of the key factors for any search engine to determine the actual content of your page. Thus, SEO titles are among the most important ranking factors.
It is the most important line – and usually the first one – that people see in the SERP. So they make a decision largely based upon your title if they will click on your website or they won't.

The Ideal SEO Title Length
Although not the most important factor in itself, the length of your SEO title (meta title) can affect how it is presented in the SERP. If it's too long, it'll be truncated. If it's too short, Google might decide not to show your page in the search results at all, or simply overwrite your title.
Here are the most important aspects you need to consider when determining the ideal title length of your page:
The snippet that's actually displayed in the SERP is determined by the visual length of your title. It's not calculated by the number of characters, but no more than 600 px is displayed. This means that usually any SEO title wider than 550-580 px will be truncated.
The actual number of displayed characters depend on the width of your characters in the meta title. Of course a title with a lots of thin characters like i or l can be much longer than one with wide characters, such as W or L.
In general, having 60-65 characters in your title is safe to avoid truncation. But again, this largely depends on the characters that you use in the actual title.
Don't forget that the width of your meta title is the combined width of your page title plus branding, as you always should add branding at the end of your titles.
The most surprising factor you should consider is that an ellipsis may be a CTR boosting signal, working like a real click to action element. If your meta title is too long, Google will truncate it, leaving an ellipsis (…) at the end. But sometimes an unfinished sentence, ending in an ellipsis can motivate people to click on it…
If you want to see how your actual SEO title will look like in Google, you can use Moz's online title length checker or the built in SEO snippet-view functionality in the YOAST SEO plugin, if using WordPress. Both will show you your SEO title the exact way it would look like in the SERP, that is, truncated with an ellipsis if too long.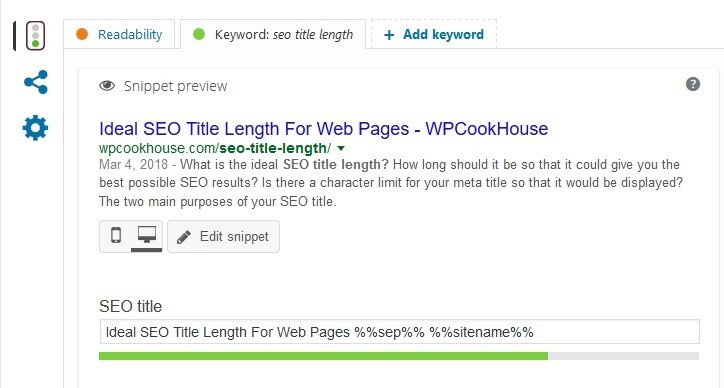 Should You Worry About Your SEO Title Length?
In my opinion you really shouldn't. Even if meta title is a very strong ranking factor, the length in itself is not that important.
As long as you don't get Long title tags or Short title tags flags in Google Search Console, you're safe to experiment with the best SEO title.