WordPress is one if the greatest achievements of our time. It"s a completely free Content Management System (CMS) that lets anyone start a blog or a website literally in minutes and go online. And though the clear benefits of WordPress are innumerable, here I list the … most notable benefits of using this invaluable system: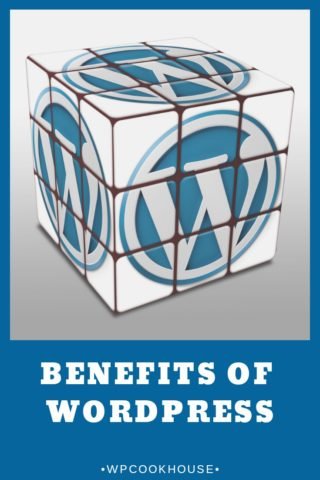 The 5 greatest benefits of WordPress
WordPress is completely free.You don't have to pay for downloading it, for installing it, nor you have to pay anytime in the future for updating it. It's just one of those things that is so good you cannot believe to be true.
It's a very robust, easy to use CMSWhen installing a CMS for your blog or your website, you definitely want something that is easy to use with even zero programming knowledge, yet flexible enough to support the extra need of
Innumerable number of plugins. Great many of them are free, so you can build up a professional website with minimal programming knowledge and no money to spend at all.And if you are wiling to spend some bugs, the premium WordPress plugins are just great and make your job of creating or maintaining a website supereasy.
WordPress has some of the best themesAs the most widespread CMS in the world, one of the greatest among the benefits of WordPress is having a large variety of themes available. Free or premium, in a few minutes you can download and install a theme of your wish. And even if you are on low budget, spending 50-60 bugs on a supercool, responsive, designer-made theme seems nothing these days.Click on this banner to explore thousands of WordPress Themes:

It's easy to find a competent solution to any problem.There are literally millions of websites and pages on the internet discussing each and every minor or major issues you might come accross when using WordPress. There is a competent and easy solution for every problem.
Easy to find a WordPress developer if you want to hire one.Even if you want to hire someone to make, update or tweak your website, there are millions of people out there competent in WordPress.
Go and get yourself a domain download and install WordPress right now! Start blogging, start letting hear your voice online!