If you want to start a consulting business, you want to do it right. And profitable. In fact we're talking about a business here, and what else should be the primary reason for starting a business than making profit?
You can do this in several different ways. Start your consulting business just part time, maybe while working full time. Leaving your current job and starting this business as a full time job. Or even invest a ton of money and start a big consulting company.
In my experience, this doesn't really matter when looking for the key factors of success. But there are 7 key elements that you should know about when starting a consulting business. Use these tips and make sure that your business becomes profitable as soon as possible.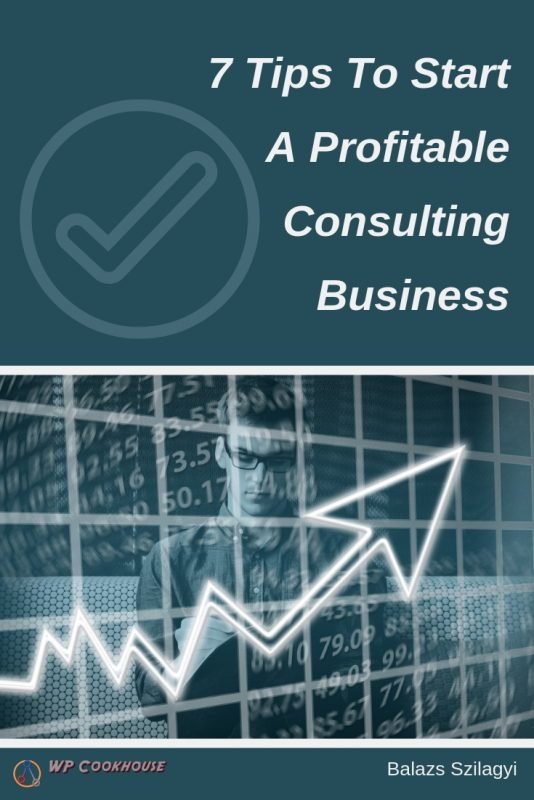 Profitable Consulting Business Tip #1 – It's About Your Client's Success
When you start your consulting business, you might think that getting your first client is a giant task. That might be true, but believe me, keeping your fiftieth client is the real challenge.
You can do some tricks, even call your friends and acquaintances and close a deal or two. But if you don't work on getting real results for your clients, soon it'll be a nightmare to get new ones.
Work for your client's success. Word of mouth is a pretty strong marketing factor in the consulting industry, don't underestimate it. If your clients have success, they'll deliver you the new clients.
Profitable Consulting Business Tip #2 – Consult Successful People
As a consultant, you want results for your customers, as we discussed it earlier. But it takes two to tango. Even if you do your best to help your clients, there will be some people who just doesn't want to help themselves.
Consult people who are successful in some area of life, and searching for help in some other area.
Profitable Consulting Business Tip #3 – Don't Bet Everything On Online
It might be tempting to build up your consulting business 100% online, but in reality that rarely works.
To be successful online with your new consulting service, you have to be successful both with your consulting business and online marketing. And that's another area of expertise you need to learn.
I'm not saying you can't learn it, of course you can. But it's easier to focus at one thing at a time, which is building up your consulting business now.
Visit networking sessions, contact your friends and acquaintances, and get referrals from your existing clients. Once your consulting business is up and running, you can start working on scaling it up online.
Profitable Consulting Business Tip #4 – Money, Fear, Obstacle
The trick is that you provide a service where money can be made, an obstacle overcome or a huge fear avoided on your client's side with your help. These are the main motivations people will be happy to pay you and later give you referrals.
Profitable Consulting Business Tip #5 – Don't Worry About Your Knowledge
Don't worry about your knowledge in the field of your counseling business. Everybody has to start somewhere, and it takes time and experience to gather all the knowledge on your field.
Remember, the main point here is to help people succeed, and not to show off with your lexical education. Sometimes the best way of counseling is to listen to people's problems. Just by being able to think from an outside point of view, you can help them make a move towards their desired state.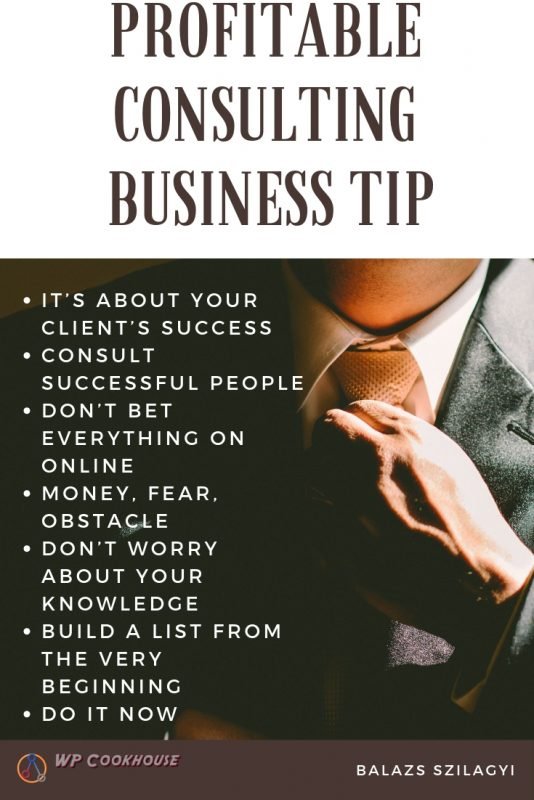 Profitable Consulting Business Tip #6 – Build a List From The Very Beginning
Yes, I know this is online marketing. And I know I told you earlier that you shouldn't start with learning how online marketing works.
But this one is different. Building a list is not just about online marketing. It's about building the backbone of your business.
In a consulting business, building trust is essential. And the best method of building trust in the 21st century is by building a list and communiicate to those people on your list.
You can start with just sending out a few emails to those who you've met with in the networking sessions. You can collect emails from your clients, on your website, wherever you want. But do it from the beginning.
Profitable Consulting Business Tip #7 – Do It Now
Yes, it's that's simple. The sooner you start, the better chances you have building up a profitable consulting business.
Just start today. Select your niche (Download here my free pdf of 94 highly profitable consulting business ideas), and start building your business!
↓ Save this picture below to your favorite Pinterest board on consulting tips, so you can always come back here later. ↓