Do you really want to know how to learn SEO? Then keep on read this unbiased report and case study (i.e. I don't want to pitch you anything) now!
And yes, we already covered the main problem that you can find when trying to learn SEO. In reality, most SEO learning materials are either published by companies selling subscription-based SEO services (e.g. backlink-checkers, keyword tools), or the main goal of such learning materials is to sell you on some affiliate SEO subscription services.
In this article I summarize the 7 most important steps when learning SEO. Other than that, I give you a few tips on how to follow SEO blogs, and the list of the few ones that are actually publishing valuable information. If you are looking for actual steps you need to take in SEO as a beginner, follow the link and read my other article.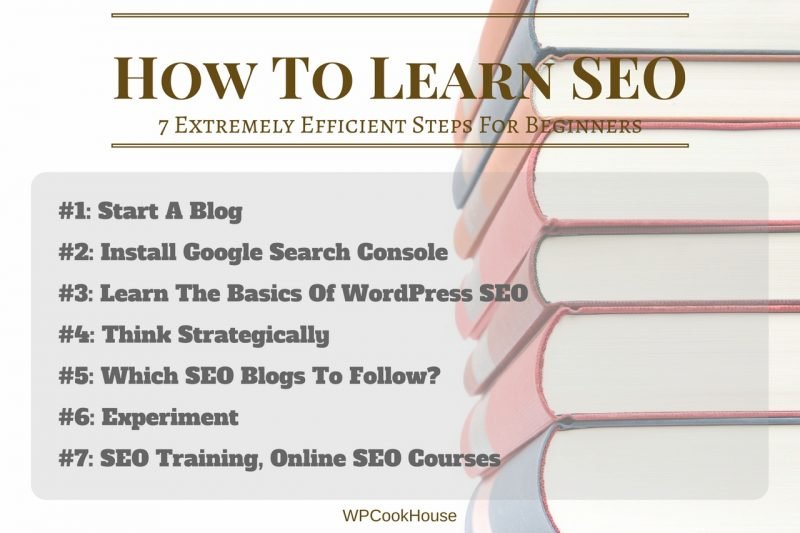 How To Learn SEO #1: Start A Blog
Yes, that's right. No matter how beginner you are in SEO, no matter what your main goal with Search Engine Optimization is. You need to learn it from practice.
And the best way to practice SEO is to start a blog. The very first step, before anything else.
What I recommend is to find a topic that you really like and are passionate about. And don't think about monetizing your blog it at this point. Your goal is to learn SEO, and that you can achieve best if you don't focus on money at the beginning.
What is important is to clearly define a niche for your blog. Google prefers websites focusing on one topic, so don't start a personal blog when learning SEO. Writing about everything can be interesting from a writer's point of view, but that's just not the type of website you'll learn SEO from.
Here are some niche ideas you can choose from, when starting a blog while learning SEO:
Your hobby (e.g. Photography, Skateboarding, etc.)
Cooking / recipes
Travel
A specific country / region
Parenting / kids
A specific product category (e.g. Dual SIM Phones, Pressure Cookers, Running Shoes, etc.)
Cars
I recommend you use WordPress for your new blog. It is extremely easy to set up and manage, and also it is well suited for SEO.
How To Learn SEO #2: Install Google Search Console
Google Search Console is a free tool from Google that helps tracking SEO results of your website. It also gives you some hints on what you should tweak or what might be wrong with your website, if anything.
Search Console is a free tool. The only thing you need is a Google account, which I'm sure you already have one. Read this detailed article from Google on how to set up your Search Console account.
How To Learn SEO #3: Learn The Basics Of WordPress SEO
Practice makes perfect. Just start publishing your articles, and in the meantime learn setting up and optimizing your WordPress site. Here are a few must read articles that can help you:
How To Learn SEO #4: Think Strategically
Google's algorithms got extremely refined and elaborate these last years. Don't think that you can cheat Google, and just forget the old days when you could get great rankings with technical settings only.
SEO is a strategical game. It is part of your marketing strategy. In order to get better results and learn how SEO works in real life, try to answer questions like these:
What would your website look like in 5 years from now, content-wise?
How can your website be an authority site in your topic?
What are the main problems / questions of people when typing specific keywords?
How can you give more to your readers than other websites in your niche?
How To Learn SEO #5: Which SEO Blogs To Follow?
Unfortunately, most information you find on SEO blogs is useless.
Most SEO blogs write about technical settings and algorithm changes. They might be interesting to read, they might even trigger emotions, but that's not the end goal of SEO. The end goal is that you get more visitors and more conversions from search engines.
When looking for a reliable SEO resource online, you should consider answering these questions for yourself:
What is that site selling? If it's some SEO tool, you can be 100% sure that the main goal of the information is that you feel the urge to buy that service.
What are their results? Are there any publicly available results at all? Are those results from a few years ago, or they can actually keep the pace with the ever-changing rules of Google?
Is the information actionable? Or just some interesting content to make you spend more time on that website?
Honestly, these are the only SEO blogs I recommend you to follow (and the only ones I really follow):
yoast.com SEO blog. And to be honest, I only recommend the articles written by Yoast (Joost de Valk) himself.
Viperchill. This is not the typical SEO blog, but information is actionable, and what you find there in terms of SEO might not be what you expect to read, but it is actually the truth.
I wouldn't bother reading tons of blogs writing about the technical aspects of SEO and the latest Google algorithm changes. These might sound sexy, but won't give you any results, believe me.
How To Learn SEO #6: Experiment
Don't be afraid of experimenting with your website to better understand how SEO works.
SEO is part of online marketing, and as such, it is best understood when tested. Test your copy, your keywords, your site structure, your meta descriptions etc.
And one more benefit of testing everything in SEO. With real tests you'll be able to see what works and what doesn't. And yes, understanding and using is the real way of learning something, even SEO.
How To Learn SEO #7: SEO Training, Online SEO Courses
When you get up to this point, you already have at least some basic knowledge of SEO. And what's more important, with real life experience and some understanding on the subject, you'll be able to decide what's working and what's not.
Now you can decide if you need any SEO training at all, or you keep on learning by yourself.
And if at this point you think you could benefit an SEO course, just go ahead and find one that fits your need and budget.
Unfortunately I cannot recommend you any SEO trainings, as I've learned everything myself, following the 6 steps above. But to find the right training for you, make sure you ask previous participants of that training about their results.
Good luck with your learning! For more information, don't forget to read my SEO for beginners article, and check the SEO Tutorials section in this website.