Social Media signals or social signals are essential for you website's SEO. Google sees these signals as a proof of your social media presence. And furthermore, as a proof of people talking about your website, liking what you do etc.
In this case study I will show you a simple trick in 6 easy-to-follow steps, that I applied for one of my niche sites. This trick got me 3.3k social signals in a few months time, and counting. And it is so simple and so easy to implement, that you can easily apply the same method to gain more trust from Google.
What Are Social Signals?
But first of all, let me clarify what exactly social signals are, from an SEO point of view.
A social signal (from an SEO point of view) is any kind of social media activity (liking, sharing, commenting, pinning etc.) regarding one URL, that can be measured by third party applications, specifically search engines in this case.
Google is able to query the number of combined likes/shares/comments (in case of Facebook), pins, tweets etc. Just take a look at the left hand side of this article, or at the bottom on your phone right now. You'll see a few social media icons, along with the total number this article has been shared/liked etc. (And press that like/share/pin/+1/tweet button BTW if you're there anyways 🙂 , thanks.)
This is the same number Google is able to query from all major SM sites. Even if Google doesn't see your actual posts on Facebook, it is still able to see how much attention you are able to get online.
One Wildcard Keyword For Every Niche
To understand the trick I'm about to show you today, let's see this wildcard keyword. For there is a keyword, or better said a modifier word, which you can effectively use for this technique, no matter what your niche is.
It is so simple, we often don't even take it seriously.
And that word is "Quotes".
People love quotes. Quotations, sayings, citations, passages, old adages. And it turns out that they are searching for them in every single aspect of life.
Life itself is a quotation. — Jorge Luis Borges
Social Signal Trick Step #1: Keyword Research For Your Quotes
The first step is fairly easy. Just head over to Google Ads Keyword Planner.
Type in your niche's main keyword, affixed with "quotes" (e.g. "personal trainer quotes"). Also make sure to hit "Keywords to include", and simply enter "quotes". The keyword planner looks somewhat different now, but this method works the same.
Run the query by saving your must include keyword and hitting "Get ideas". You'll end up with something similar to this:
Note: I'm using my Personal Trainer website as an example here. In fact this is the one that got me those 3K social signals mentioned in the title.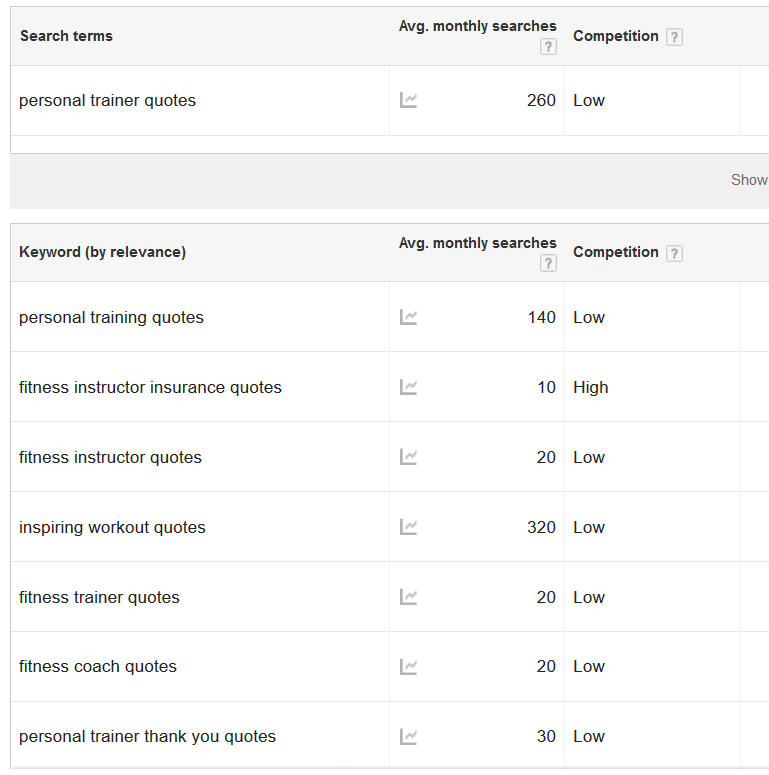 It's as easy as it gets. Keyword Planner just came up with 183 fresh ideas for fitness quotes in this case.
Social Signal Trick Step #2: Do The Same In Pinterest
No let's go and head over to Pinterest and see what type of quotes people are searching for over there.
Unfortunately Pinterest doesn't have a handy keyword tool. You just have to rely on the old type-and-suggest method. That is, start typing your preferred quotes keyword from the Keyword Planner list into Pinterest search bar.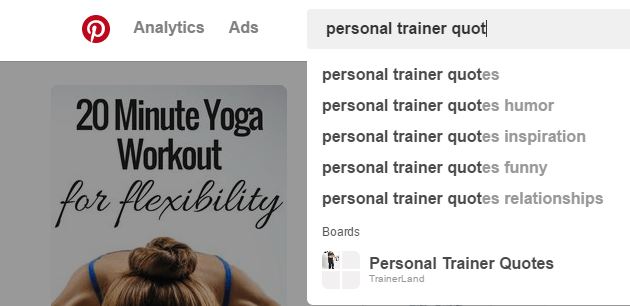 If you see the keyword in the search bar, people are searching for it, and you are good to go. Just pick one keyword that appears both in Keyword Planner and Pinterest search bar.
Tip: Not always the keyword with the highest search volume is the best choice. That is the one most likely to have lots of competitors, and maybe difficult to get good rankings easily. Pick some middle-range or even low search volume keyword, especially at the beginning.
Social Signal Trick Step #3: Now Go And Find A Few Quotes
Yes, research time. Simply type in your keyword into Google and Pinterest, and see the results. I'm pretty sure you'll end up with a myriad of excellent quotes. Just pick the ones that you like the best. Or the ones you think you'll audience will like the best.
Tip: even in Google search, the best quotes you'll find as images.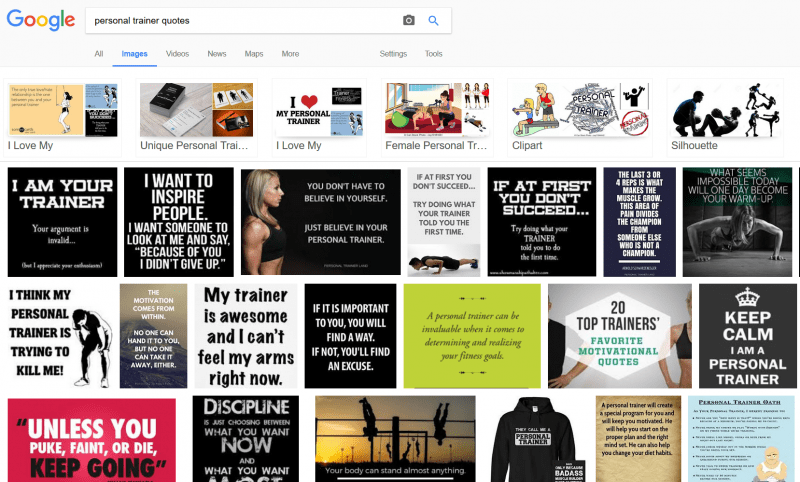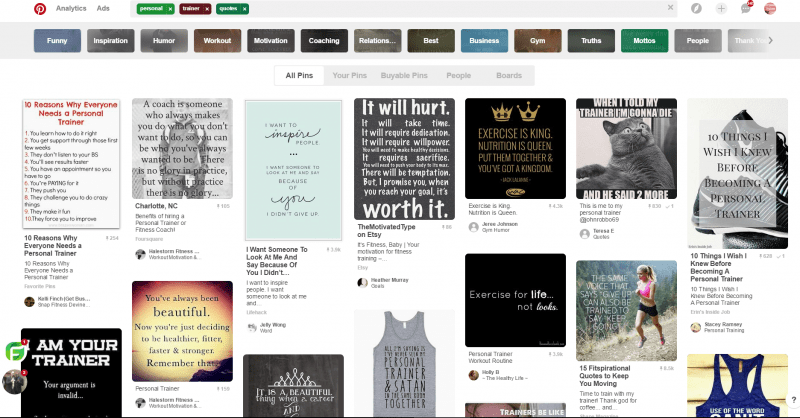 For this particular example I picked up 10 quotes. I think using 10 quotes is a great solution for most cases.
Tip: People love motivational quotes and funny quotes.
Social Signal Trick Step #4: Make Pinnable Pictures
As you guessed it, you'll need nice pictures in order for this trick to work. I know this is the hardest part, but don't overcomplicate it.
I used Canva for creating the quote pictures. You can use it for free for a bunch of different projects. Use free pictures from Pixabay for creating more enticing quotes. And of course you can always outsource this part to a professional designer.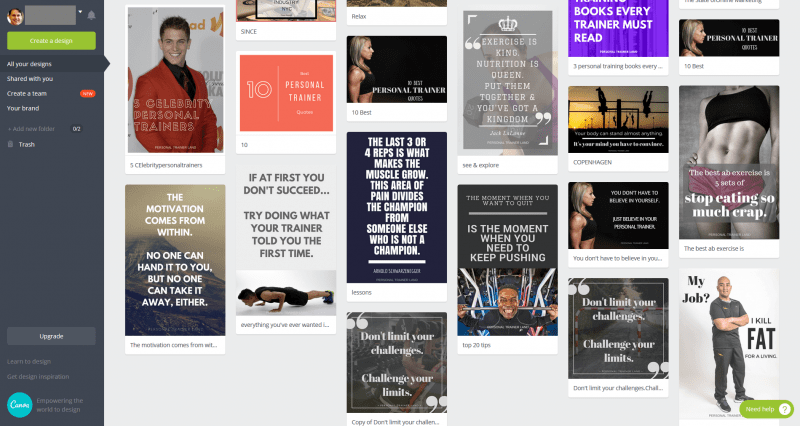 Believe me, I'm not a web designer type of guy. But below you can see my most popular personal trainer quote on Pinterest. And this one took me only a couple of minutes after I became familiar with the use of Canva.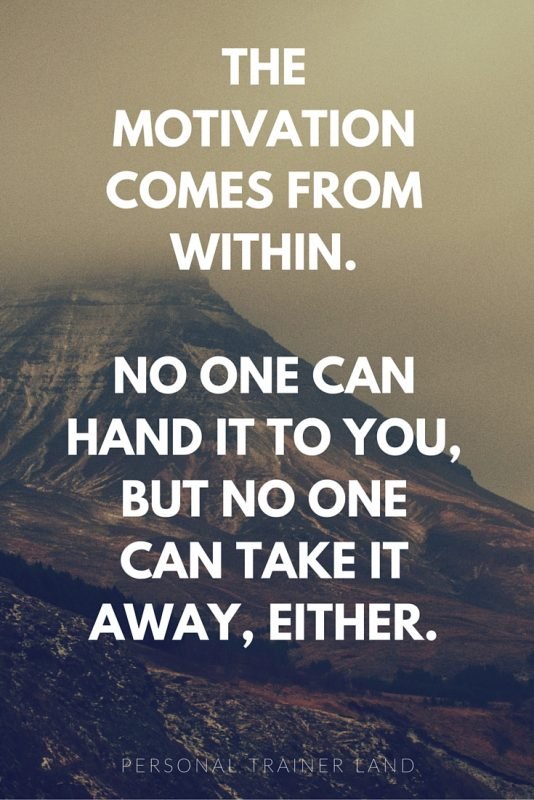 Social Signal Trick Step #5: Upload Your Quotes To Your Website
Simply create a new page or blogpost on your site, and use the quote keyword as a title. In my Personal Trainer Quotes example I used the URL …/personal-trainer-quotes/.
Upload your pictures, and write a few words about the quotes. Just see my example following the link above.
Make sure to use an SEO-friendly title and meta description, both including your original keywords. Please refer to my WordPress SEO Tips to see more advice on how to set up your title and meta description.
Social Signal Trick Step #6: Create A Pinterest Board
Remember when you were searching for your term in Pinterest? Now their search engine is pretty simple, and the best thing you can do is to create a new board with the exact same title. In my case is simply "Personal Trainer Quotes".
Pin your quotes from your website. This is vital. In order to get actual social signals to your site, never upload your pictures to Pinterest directly. Upload them instead to your website, and pin them from there.
Please note that there are a few factors that will help you get better rankings and more Impressions in Pinterest. Some of them are as follows:
Use rich pins.
Have more than one board. Make your Pinterest account look like it has some real life going on it.
Give your quotation board some life too. Pin a few more quotes from other popular quote boards. (BTW this step I just missed in my example, and this social signal trick still worked out pretty well.)
Let it roll!
This is all you have to do in order to this trick to work. Results of course depend on how established your site already is, how much life you bring to your Pinterest account, and how soon someone with a bunch of followers repins one of your quotes.
But you can expect your new article to get a good ranking in a few months time, and also your Pinterest board to get some traction.
Once your in the game, this becomes a self-sustaining process, and this is the best of it all.
You get visitors to your site from Google constantly, and also impressions on Pinterest.
If people like your quotes, they'll repin them onto their boards.
This way your quotes will show up for even more people, thus more likely to get even more repins.
Google will see each time your quotes have been repinned as an individual social signal. Thus it'll give more trust to your website, and hopefully better rankings.
Better rankings mean more visitors, and the whole cycle repeats itself.
Good luck! And don't forget to let me know in the comments section below how this social signal trick worked out for you!