The question 'How to start a food blog' can be answered from various viewpoints. My aim here is to help those people who really want to publish some quality content, but lack the technical or practical expertise on the subject – namely starting a food blog – or just need some motivational words to start moving their butts…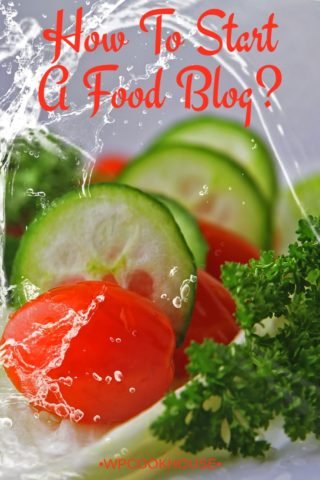 This post will be beneficial for you if this is the first time you plan on blogging, or the first time you want to do it "seriously" (i.e. to be seen by more people than just your family and a couple of you online or offline friends).
Maybe you can find something helpful even if you are already successfully running a blog or website. Anyways, please let me know in the comments below what was the most helpful to you and what should I add to the topic.
TOC: The 6 steps of starting a food Blog
1. How to start a food blog: Make up your mind
Tip: Read this part even if you expect the most obvious from it.
It's not that I want to emphasize that before starting anything (e.g. a food blog) you should first make a decision. This is true but this website is not about mental well-being.
I only want to point you out that starting a food blog – assuming that you want it to be successful – is a commitment. I am sure that the majority of failing food websites fail because of the lack of commitment.
So be prepared. The very first step of starting a successful food blog is to be committed to the task in short and long term. And to give you some practical help, here is what I think you should be prepared for:
Posting regularly. It is commonly accepted that for any blog to be successful, you need to post at least once a week. And I can't deny that. As I point out in my eBook "How I got 2K daily visitors to my blog", my initial success was strongly correlated to the number of published posts (You can get the eBook free if you subscribe to my newsletter below this post).
Being open to learn new skills. To run a successful food blog you need to be an excellent cook, a good photographer, writer and food stylist, and also have some knowledge on SEO and social media.
Be very, very persistent. There are very few successful blogs out there that started out with hundreds of thousands of visitors the first month. Moreover it is likely that you blog will have very few likes/comments/visits even in the first year. Yet if you stay persistent in publishing, you can reach your goal with your blog.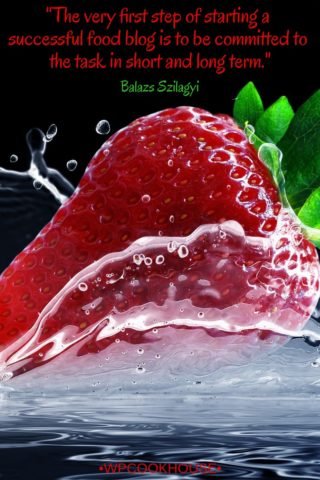 2. Find and define your niche
According to one of the most complete blog directory, Technorati, there are over 20,000 active, English food blogs as of November 2013. I would say there are much more, but anyways, how do you plan to get noticed between thousands of others, unless you find one topic you can excel in?
The great thing about food blogging is that there are so many hungry readers interested in finding new content, that not only the simple number of possible niches, but even the ways of selecting you niche are countless. Just to give you a few examples, these are all working ways of finding the right topic you want to publish in:
National cuisine. You can pick almost any nation in the world and blog about it's cuisine, if you do it right I promise you that you'll have plenty of followers. You can even go further and select a regional cuisine (e.g. Sicilian instead of Italian, Cantonese instead of Chinese etc.)
Diet. Vegetarian, vegan, raw food or even paleo cuisines are extremely popular blog topics these days.
Ingredient. Not that common, but you can choose one ingredient to run your blog around.
What kind of people do you target? This is very similar to the diet option, you choose something (other than diet) that is common in your future readers. Mom blogs are very popular and a good example for this approach.
Famous personality, Cookbook. Some blogs became popular just by presenting the recipes from one famous chef or cookbook. Just think about the original Julie Powell blog behind the Hollywood hit "Julie & Julia". – I think it's so inspiring to see even the trailer of this movie for anyone thinking in publishing their recipes, that I incluided it here:
Many possibilities other than food. There are very successful food blogs out there that chose a niche based on something not food related. What am I talking about? You can be a great photographer and run a successful food blog in the niche of "best photo food blogs". You can write about how to cook in a small kitchen. You can choose to be the "funny food blogger" and concentrate on humor instead of the food. Etc, etc. I hope you get it.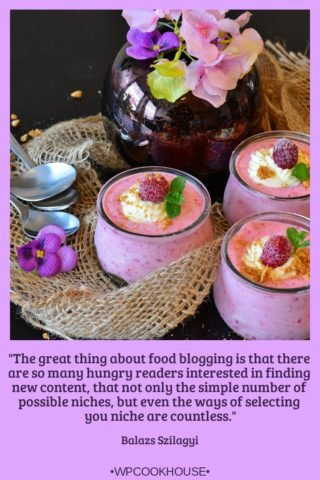 3. Select your blogging platform
To be honest I'm a bit biased here. Starting a blog I see at least 50% from the internet marketer point of view. It's not that only money motivates me. But I also need money to survive, as possibly you do. And even if every one of my blogs and online strategies serve some higher purpose – at least to attain my personal goals – I do take into consideration the monetization.
And you can't expect to earn money if you are not willing to spend money. When it comes to selecting your blogging platform, I don't see any reason not to spend $5-10 per month on your own domain and hosting, taking into consideration the much wider possibilities of taking some money out of this version at the end of the day.
a) Completely free solutions
Although I don't really recommend them, here are some of the pros and cons of starting your blog on a free blogging platform:
Pros: They are really free; Usually easier to start; You don't have to take care of software maintenance; For some extent you have more possibilities to share and to be seen among people using the same platform.
Cons: You can't have your own domain; Generally they are harder – sometime impossible – to be set up search engine friendly; Limited possibilities of design; Possible limitation on monetization (e.g. advertisements); Somewhat decreased value over a full domain in the eyes of visitors; It's not yours legally – should the service be shut down, you might lose everything; Much harder to move from these platforms once you decide to use your own domain; You are limited to one provider.
If you still choose to start on a free platform, WordPress.com and blogspot.com or Blogger are the most popular – the latter owned by Google. You also have the option of starting a microblog, Tumblr being the most popular, but basically all social media sites (Facebook, Google+ and even YouTube) are microblogs in some form.
b) Ready to invest a few bucks?
If you are willing to spend a few bucks a month, you can expect much more in return. You can have your own, nice domain name, your own server with anything to upload to. You are not limited on the choice of content management system (CMS), design, form of monetization etc. You are free to upgrade, downgrade, move or shut down your site anytime you want. What is this if not digital freedom itself? 😉
Here is a short list what you need to set up your own domain – below you'll find instructions and suggestions on each of these in step 5:
Domain name
Hosting account
CMS (Content Management System)
Some kind of design/skin/theme to start with
4. Find a good name
Well, this is where real creativity comes in first. I find that most bloggers consider finding their name one of the most important steps. Go and check the About section of any food blog and most of them will write about how they found out their name.
There is no best solution for naming your blog, anything can be good. And to tell you the truth, the real success of your blog won't depend on the name but on the effort you put into it. But feel free to find the perfect name and enjoy this creative part – I know it's quite an inspiring process. To help you I give you an example of the most popular food blog naming methods:
5. Set up your blog
This is the technical part – the bad news is you can't escape it. The good news? Generally you only have to do it once. And when ready, you can go publish and be immortal online. 🙂
Once again I concentrate here on how to set up your blog taking your own route with your own domain. If for any reason you choose the free blogging platform route, it is pretty straightforward to set up your blog on those platforms. Just register an account and follow the instructions and you're ready to go in no time.
Setting up your blog can be very different depending on a number of factors, and I don't want to go into too much technical detail here. As I stated above, I highly recommend you to invest a few bucks per month and choose your own domain for food blogging. Also I find WordPress to be the most easy to use blogging platform, so I outline the steps needed to set up a wordpress.org food blog.
5.1. Select and register your domain
Your domain should be something related to your name of choice in step 4, and easy to remember. If you plan to start a real blog (i.e. not only for SEO purposes) I recommend you to use a .com domin. This is still the main top level domain most people think about. This way you won't loose visitors who just type in your name with the .com extension.
Registering a domain is pretty easy. There are tons of services out there, I use and recommend Namecheap.com. They are cheap but very reliable and straightforward to use. Also you don't have the feeling that the only thing they want is to sell you more, opposed to some other well known registrars.
Simply go to namecheap.com, type in your desired domain where it says Enter Domain to Search. If it is available, you are lucky. If it's not feel free to find any other domain name. Once you're satisfied with an available domain, follow the easy steps to register it for yourself. A .com domain will cost you between 10-15 USD per year and you have to pay it up front each year.
5.2. Subscribe to a web hosting company
You need a web host to store your files, your website on their computer. They have so called server farms with thousands of computers and provide different services based on your needs. As a starter you typically don't need a whole server which would be very expensive to maintain. That's why these hosting companies offer shared hosting, where hundreds or even thousands of websites are located on the same computer. This is a great and cheap solution to start.
As a shared hosting company I use and love Bluehost. I have never had any issues with them, opposed to other hosting companies where I experienced some very unpleasant steps with some client websites. The shared hosting costs between 7-10 USD per month, depending on the term you sign up with them. For this price you can host an unlimited number of websites, you get your own email (e.g. yourname@yourdomain.com), and I tell you it's not that difficult to earn back this amount of money from your blog.
Go to bluehost.com, click on Sign Up Now and follow the easy steps to set up your unlimited shared hosting.
If you do it my way (register your domain at Namecheap and buy hosting at Bluehost), once your hosting account is set up you should go back to your Namecheap account, select your domain, than click on Domain Name Server Setup and enter "ns1.bluehost.com" and "ns2.bluehost.com" under #1 and #2 Specify Custom DNS Servers ( Your own DNS Servers ). This ensures that your domain will be properly forwarded to your Bluehost hosting account.
5.3. Install WordPress
Installing WordPress, the best free Content Management System is pretty easy and straightforward. You have basically two main choices, #2 is that I recommend in most cases:
Go to wordpress.org and follow the easy steps to download and install WordPress.
Most webhosts offer automated scripts to install WordPress. These are OK if you plan to start a normal site, which is what 999 out of 1000 bloggers need when they start. Log in to your Bluehost account, select cPanel, then under Website Builders click WordPress and follow the easy steps.
5.4. Select and install a theme to feature your recipes
This is where you choose the clothes and makeup for your blog. Once again – and I swear this is the last time – I advise you to spend some money on this.
Although you can find lots of free WordPress themes online, these generally suck in some way. They might be difficult to set up, include unwanted outbound links, don't have any support and other issues. If there is one important thing regarding to how to start a food blog, free themes generally don't offer the possibility of tagging your recipes with codes so Google would understand them as recipes and display them nicely in the search results.

The best and widest selection of themes is available at ThemeForest. You can also see my WordPress food theme reviews. You can buy a decent and mobile-ready, SEO-friendly theme for $45-70, packed with tons of features.
One advice though. Please do a thorough search, try your desired theme on different screen sizes (tablet, mobile also). Also please take into consideration that the themes are generally set up with professional stock photos that are not part of the package and serve only demo features. So imagine your theme with your own photos and make your decision accordingly.
5.5. Set up WordPress
For this you should follow my how to set up WordPress guide, and also read carefully and follow the guide of your purchased theme.
Premium themes generally come with an initial XML setup file. Use this to make the site look the same as the demo version (without pictures). You can play with this a lot, and I see that generally it takes month for someone new with WordPress to get their preferred set up. This doesn't mean your site is not working in the meantime, I'm just telling that you'll fine tune your site every day in the beginning, and this is OK. Also a site with only a few posts needs a very different setup than an already established site with dozens or hundreds of posts.
5.6. Publish at least 3 recipes
If this is the first time you're starting up a blog, getting here is not child's play. I already set up dozens of WordPress sites and could do all these steps in less than an hour. But I remember the first time, I spent hours figuring out how to properly set up my hosting, install wordpress etc.
So if you followed up with my suggestions until now, you might feel a bit tired and maybe dissatisfied with the process. Lots of new things learnt and done, and the result? A basically empty site which is far far away from even your worst expectations.
And this is why you should not stop right here. A brand new site with no real content is always ugly. You expect something at least as beautiful as the demo site examples, and what you get is basically an empty site with your name on it and some generic WordPress options. Lots of people give up here – which is the worst solution. You already spent hours on your work, why not finish it?
So here is my suggestion. Make, write and publish 3 recipes as fast as you can. Don't care about how good these recipes are. Just publish them. This way your site gets filled up with some real content, you won't feel it was much ado about nothing.
Publish your first 3 recipes the way you want. Share them with friends, ask their honest opinion. Ask them to be honest, what you want here is not to hear "it's great", but the honest opinion what is good, what is bad, what they like the most, what you should do differently. Take close attention to every opinion. You should filter out what is useful and what is not. You don't have to give up your personality, but if you listen to your audience you'll be able to slowly develop your own style, which on the other hand is appealing to your main audience. And this is key to run a successful blog.
6. Connect Social Media accounts
You just can't skip this step. Connecting as many social media accounts as you can is the key to easily promote your blog, and also inevitable for good search engine results.
You should at least create your blog's own page and connect them via links to your site on the following social media platforms: Facebook, Google+, Twitter, Pinterest, deviantART, YouTube (even if you don't plan to publish videos right now), Delicious and Gravatar.
If you think this is too much, just let me tell you 2 things. First if you don't have thousands of dollars to spend on promoting your new blog, these platforms are inevitable. They provide a free way to reach thousands or millions, you just can't skip them. Second it is crucial to publish (and preferably get shared) as many links to your blog as you can in order to get better results in the search engines.
So just go ahead and do it – these platforms are easy to register.
How to start a food blog EXTRA: What special equipment do you need?
You are basically ready to go live with your new food blog. As long as you publish at least one recipe per week, no one can stop you to become more and more popular and get more visitors every week.
For a succesful food blog you don't really need any special equipment, what you really need is persistence. But I found that having good pictures is a key in achieving success, so let me tell you my recommendations.
Camera. You can start with any camera you like, but if you want nice pictures you'll need one where you can set the aperture. Look for "aperture control" or "aperture priority". Although point and shoot cameras are generally cheaper, the ones having aperture priority should cost as much as an entry level dslr camera.

What I use is a really simple Canon EOS 1100d (Rebel T3 in the US) which you can buy for $300-500 on amazon.com (click on the link or the picture). This entry level camera comes with a starting lens which is perfectly OK for food photography. It is a good start to learn taking good pictures, and you can always upgrade it later.

Picture editing software. Even the best photographers post-process their pictures, and sometimes this makes the real difference between an average photo and one that sells itself. Use great free software as downloadable Gimp or online PicMonkey.
Accessories. I think to start a food blog it's OK to use your current tableware – I used our initial "set" for more than 2 years. But you should consider buying one plate, tablecloth, bowl or some fork and knife now and then. Don't need a whole set, just one piece. Selecting the right color and style for every food can make a difference in your pictures.
My final and most important advise on starting a food blog
And at last, my one and only biggest advise on how to start a food blog: go and do it now.
Doesn't matter what you know or what you don't know about the subject, doesn't matter how difficult you think it is now. Every day you miss out starting your blog you just make your dream come true one other day later.
Good luck!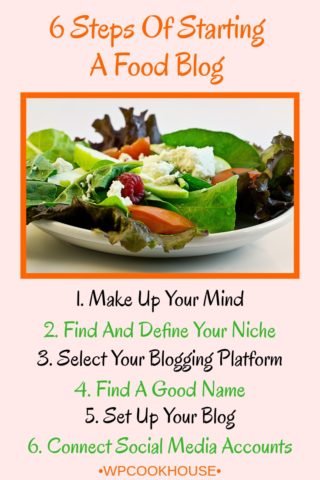 Photo credits: balekuze & humusak2.