Before diving into my Bluehost review based on my own hosting experience, we need to clarify one important thing.
Hosting reviews are all about affiliate income. This is an extremely lucrative market with possibly the most savvy online marketers in the game. No wonder a lot of people try to make a good chunk of money by writing reviews about different hosting providers like Bluehost.
But this unfortunately leads to the fact that not all hosting reviews are necessarily honest. And I'm not only talking about making mediocre services look exceptional in order to sell them. Also it is a popular technique to write bad things about big hosting companies, trying to get more coverage with these negative voices, frightening off people from the big players, and possibly make some leads for a smaller competitor.
In this Bluehost review I'd like to give you an honest opinion about their shared hosting service. It's not necessarily exhaustive as I can only talk about what I've personally used. But I want to talk about my real life experience, honestly, without being biased by the money offered for referring a customer. Even if I am also in the affiliate game.
Bluehost Review: TLDR
I do get affiliate income from Bluehost, let's get this straight at the beginning. If that bothers you, simply close this window.
Yes, I actively use Bluehost as a hosting company, currently for 12 websites, and I'm pleased with their service. That's why I can recommend them to you. I don't mind making money recommending a service that I use and am pleased with.
No, this website, that you are reading right now, does not run on Bluehost at the time of writing this article. Find out more about this later in this Bluehost review.
My Story With Bluehost
The very first hosting service I signed up for to host my English websites was Bluehost back in 2012. I did this based on the recommendation of Glenn Alsopp from Viperchill, and I never regretted it.
Their prices kept on increasing since then, but so did the number of websites I used to host with them. I had an unlimited plan so I never had to worry about starting a new website or expanding an old one.
Then around 2018-2019 a lot of online marketers started ranting about how having your website at a big shared hosting service can be bad for your users experience, thus SEO results. Advising instead to switch to managed WordPress hosting, if you were using WP of course.
Long story short, sometimes in 2020 I thought I would try a managed WordPress hosting service instead of Bluehost. So I went ahead and started a 5 website contract with a managed WordPress hosting provider, WPX Hosting.
This was about a year ago. I kept both services since then as I've been satisfied with both. I still have some of my websites with Bluehost and some others with WPX. As a result, now I have these two active hosting plans for my English websites at the same time. This way I can really compare how Bluehost shared hosting and WPX, advertised as fastest managed WordPress hosting, perform.
And one more TLDR here, there is no real difference.
Passive Income From A Bluehost Website
I think at the end of the day it all comes down to money when you are running a website. That's why I'm showing you this example at the beginning of my Bluehost review.
I have a website that runs totally on autopilot. It has around 50K pages, in a cooking-related topic with high search volumes but low RPM keywords.
This website is still running smoothly on a Bluehost shared plan with its 50K pages. But not only is it running, but it attracts around 150K monthly visitors, and generates me 1K passive income every month with Google AdSense Ads.
And I am a business owner, what matters to me in that sense is pure numbers. Opinions you can get from all possible sources. Whether they are honest or fueled by some other motive, maybe no one but their source knows.
But these are the hard facts. This website runs on a $19 monthly hosting plan along with 11 others, generating a healthy $1000+ monthly revenue. Why would I be dissatisfied with this service?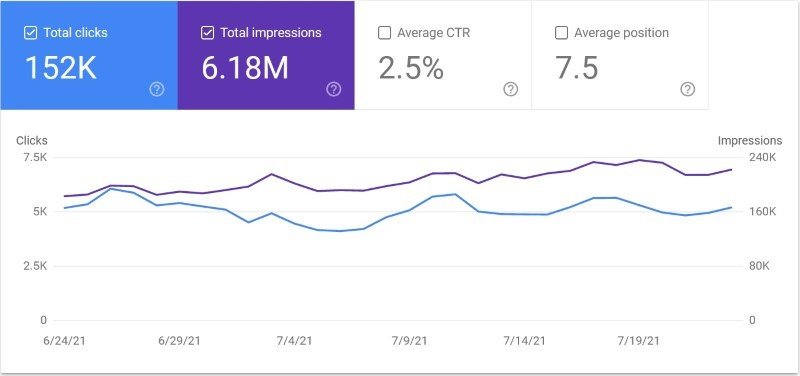 No SEO Improvement After Switching Hosts
One reason why a lot of online marketers praise small managed WordPress hosting providers over big companies like Bluehost is website speed. But a website's speed depends on dozens of factors. Yes, server speed and settings can be one of them but there are a lot others. And Google is not even interested in your website's speed anymore, but in a complex measure called core web vitals.
I really cannot tell you whether my websites got faster or not when I moved them from Bluehost to WPX Hosting. I do not measure speed frantically.
But one thing is for sure. There was no change at all in SEO results after moving the website over to the new host. It's up to you whether you believe the fad or pure data. What I can show you here is the latter.
A Short Case Study
Look at this picture from Search Console. It shows the overall results of one of my websites that I moved to a presumably faster server. This website is in the fitness niche. You can clearly see that there is no change at all after leaving Bluehost. The big red arrow indicates the day of the move.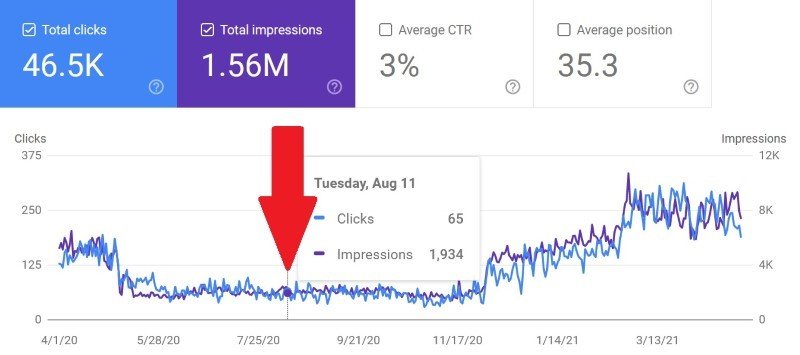 You see a drop in May, that's a Google core update that heavily affected the site months before moving. Also the December improvements later that year are thanks to another Google core update, and the other spike in February next year is due to us publishing a lot of new content. We can be quite sure that none of these improvements are the results of moving the website to another server, them being at least 4 months later then the move itself.
On the other hand, you can clearly see that up to almost 4 months after moving to a presumably "better" server there is no change whatsoever in SEO results. In fact what I can see, if I force myself to see something, is a slight drop in clicks in November. Similar results, no change at all, could be observed with the other websites that I moved, including Business Cookhouse.
So all in all, even if in theory it sounds good to move your website to a more expensive managed WordPress hosting, in these particular cases it looks like this resulted in no real life SEO benefits whatsoever.
Why Some People Say Bluehost Is Bad
In my experience there are 2 main aspects that people writing bad reviews about Bluehost try to focus on. But there is also a third thing we need to look into unfortunately, and that's the motivation behind leaving or spreading bad Bluehost reviews.
Being Slow
Shared hosting is always a compromise. You trade in speed and performance for the money. I have no personal experience with their premium plans, but as I said Bluehost shared plan is working as expected.
And even if other solutions can be faster, my not exhaustive case study above shows that there is no clear SEO benefit to moving a website to a presumably faster server.
Bad Customer Service
I don't know about other people's customer experience. I've been with Bluehost for 9 years, I contacted them 3-4 times. They were always polite and competent, fixed my issues pretty fast.
Didn't send me flowers I admit, nor did they hug me or called me pal. I don't really know what some people expect from a customer service.
The Motivation behind Bad Reviews
Unfortunately the motivation behind most information online is money. It's no different in the case of hosting reviews. I admit I myself hope I can cash in some affiliate income with this Bluehost review. But at least I try to share my real experience with you.
A lot of times you see "reviews" from people who never used the service. They just want to cash in some of the enormous sums that hosting companies give out whenever you refer them a new customer. Please note that this is around 50-100 dollars currently per new referrals. I think just a fool would trust every review in such a highly competitive situation.
Good Value For Money
I've only had a shared hosting plan with Bluehost so that's the one I can write about. This service sets you back between $10-30 monthly, depending on what plan you choose and whether you opt for one, two, or three years term.
That's normal shared hosting pricing. According to my experience, in the case of Bluehost you get what you pay for. Except for their Basic plan, you get unlimited websites with unlimited storage and unmetered bandwidth. Of course there is an asterisk after all these limitless options, but as I mentioned in my case study above, you really can use their services unlimited when talking about the needs of a regular website.
Hardware infrastructure and competent personnel are expensive. If you want a lightning fast server and a technician who is available 24/7 just for you, that's not shared hosting. Not even WordPress managed hosting. But you won't get those features anywhere else in this price range. But again, be a business man (or woman) and don't listen to other people's emotions. Try to compare instead how much you pay and how much you can get back. For most online ventures, especially when starting out, shared hosting is enough.
So all in all I think Bluehost shared hosting is a good value for money. For around $20 per month, depending on your plan, you get a decent service and you'll be able to run your website with no limitations.
A Positive Experience
This one is a little bit technical but I hope it helps.
I have a really big website on my shared Bluehost plan with about 50K pages. This is by itself a positive thing as many hosting providers wouldn't let you host such a big content with a regular plan.
But a couple of months ago I ran into a problem. I tried to generate 20K pages under one custom post type, but the server resources weren't enough to display the list on the admin area. The front end content worked just fine, but I wasn't able to access the pages from the back end. I investigated the issue and found out that insufficient memory was allocated to the PHP process to handle such an enormous amount of content.
So I contacted Bluehost support and asked them how much memory they could give me on this plan, because I had run into this problem and it looked like I would need a hell of a lot more. I was prepared to opt for a more expensive plan, as I already really exploited their resources with this website.
And boy was I positively surprised! Not even did they not try to sell me a larger plan, but the representative allocated a whopping 1.2 Gigabytes of memory to PHP without even asking me. This solved my problem, and I was really pleased with the service and with the fact that I could get over a gig of PHP memory on a shared server. The website is still running smoothly, you can see the stats above.
The Catch
I think there is only one real big catch if you decide to go ahead and start a hosting plan with Bluehost. This is not about hosting, but rather pricing, and unfortunately a marketing technique that a lot of big companies employ these days.
Whenever you start a new hosting plan with Bluehost, chances are that you can find some incredible deals. At the time of writing this article, for example, you can start a hosting plan for as little as $2.95 per month with their special birthday sale. This is for their Basic plan and with a 36 months contract, but still a very good deal. Another option would be to go ahead with a bigger plan, I have the Coice Plus for example. That's $7.45/mo in this promotion with a 1 year contract.
The first catch is in the pricing. I admit $2.95 per month sounds good. But we are talking about a 3 year plan so you have to pay 36 times that, $106.2 in advance. So although technically it costs you less than $3 monthly, what you actually pay is over $100.
But the bigger catch comes in when your contract is over. Whether it's one year, two, or three, promotional prices always apply only to the first term and hosting plans auto-renew at regular rates.
Let's analyze our 2 examples From above
You ordered the 3-year Basic plan, and chances are that you already forgot that you have to pay again for this service. Then, 3 years later, an automatic withdrawal will set you back with a whopping $323.64. Pretty big difference compared to the monthly $3 what's in your head. But that's the cost of three years of the Basic plan at the regular rate of $8.99.
In the case of the 1-year Choice Plus plan, after the first promotional payment of $89.4, the second year you'll find yourself $227.88 behind. That's the yearly cost of this plan with the regular monthly rate of $18.99.
Don't get me wrong. 9 or 18 bucks respectively are still an OK price for this service. And as I said they provide good value for the money. Also this promotional price vs regular price trick is something that you can find very often with many other companies. Still something I think is worth mentioning so that you can see the full picture and can get prepared in advance.
What Is Your Experience With Bluehost?
I hope you found this Bluehost review, my personal experience, useful.
Do you have any first hand experience with Bluehost hosting? I would love to hear that in the comment section down below!