Maybe you've just started out with your new blog, or you've been writing it for some time. No matter if you're a beginner or more experienced blogger, you sure are looking for some cool SEO tips for bloggers.
I find the most successful way of attracting readers to your blog is SEO. And even if you're great at reaching out to people via social media, SEO is the only channel that can provide you with a 100% passive flow of visitors.
That's right. It's all passive. You work once – i.e. writing your articles – but get visitors to your blog constantly. That's why I share with you here what I find are the 8 most useful SEO tips for bloggers. Check out #1 and #3 which I think are key for SEO success of your blog!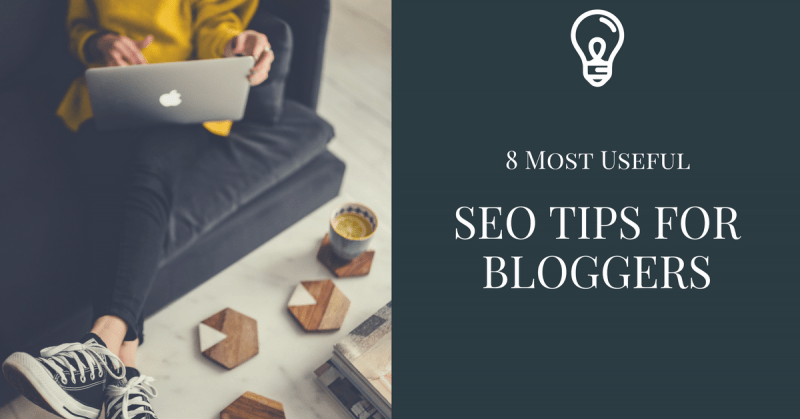 SEO Tips For Bloggers #1: Blog On Your Own Domain
This is the most important SEO advice you can get for your blog. Just do a quick search on Google for any keywords, and you'll find that free blogs are rarely ranking for any keyword.
Having your own domain and paying for hosting will cost you some money, but this is a must if you want to successfully attract any visitors from search engines.
Read my article on how to start a blog, and you'll find my solution that will set you back with only 4-5 bucks a month, but giving you all the possibilities of your own domain and web hosting, without any technical difficulties.
SEO Tips For Bloggers #2: Use WordPress
WordPress is completely free. Once you have your own domain and web hosting set up (see previous step), you can usually install it with just a few clicks.
Why WordPress? In my work I see hundreds of different websites. Some of them are using WordPress, some of them other popular CMS (Content Management System) solutions, some of them custom built ones. Whenever I tell people how they should set up their website in order to be SEO friendly, WordPress website owners make a few clicks and they are all set. On the other hand, with any other types of CMS, people struggle to set up what's needed for SEO, if they can do it at all.
WordPress is just built to be SEO friendly. Sure possibilities depend on your theme, but just the basic settings WP provides is much-much better than any other options out there.
Read my 11 WordPress SEO Tips to find out how you can set up your WP blog to be more SEO friendly.
You can download WordPress free for your blog by clicking on the link, but chances are your web hosting provider has a one click WordPress install solution.
SEO Tips For Bloggers #3: Use a Keyword For (almost) Each of Your Articles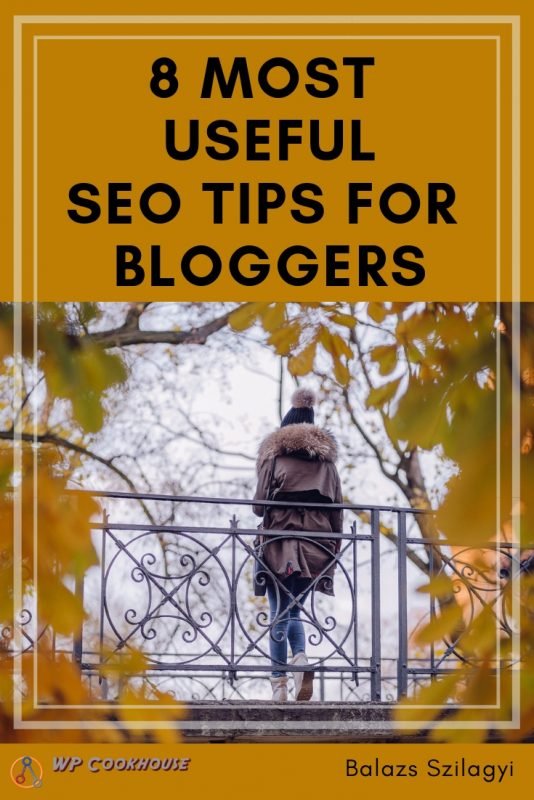 Blogging in the 1990's used to be about writing an online diary – in fact that's where the word blog comes from; web-log. But those times are over when writing about what you've done today can attract attention.
In order to rank your blog posts in search engines, you need to learn what Google and the like really want.
And the first step is understand that everything in SEO starts with a keyword. When people type in keywords, they are hoping to find answers to their questions, solutions to their problems.
Don't write articles based on your personal experiences. Find instead one keyword for each of your articles, and try to give an answer to the question in the keyword, or solution for the problem the reader might have had when typing in that keyword. Just to make this easier to understand, this article what you're reading right now for example is based on the keyword "seo tips for bloggers".
Use Google AdWords Keyword Planner or KeywordTool.io, which are free applications, to find keywords for your blog articles.
SEO Tips For Bloggers #4: Install YOAST SEO
YOAST SEO is a free plugin for your WordPress website. You can just go to Plugins » Add New on your WordPress dashboard, and add this free plugin.
Even if you are not an expert in setting up the YOAST SEO plugin, just by installing and enabling it will give you nice opportunities to rank higher.
One of them is the ability of setting up a meta description for all of you articles, which is my next tip anyways.
SEO Tips For Bloggers #5: Write a Compelling Meta Description For Your Posts
Meta description can be tricky for everyone not that familiar with SEO. This is something you don't even see on your website, so most people don't even know it exists, let alone set it right.
Yet it is among the most important SEO factors of your blog. On one hand, this is the description where you tell search engines what your article is about. But most importantly, this is the sentence your would-be visitors see before even deciding on clicking or not clicking on your blog.
See this picture to understand where your meta description appears:

Here are the two most important tips you should follow when writing a meta description for your blog post:
Be sure to include the keyword you had previously chosen for your article.
Write a description that "sells" your article. This is where your would-be readers decide if they want to read it, so one of the goals of a meta description is to sell the click through to your website.
SEO Tips For Bloggers #6: Learn SEO Copywriting
This is a much broader topic than just to be able to summarize in a few sentences. But believe me, if as a blogger you want results and visitors from search engines, you need to learn SEO copywriting.
I have a separate article on how to write for search engines in a way that it will be also compelling to your readers. I strongly advise you to start with that article, then practice. You can find it here: 11 Actionable SEO Copywriting Tips »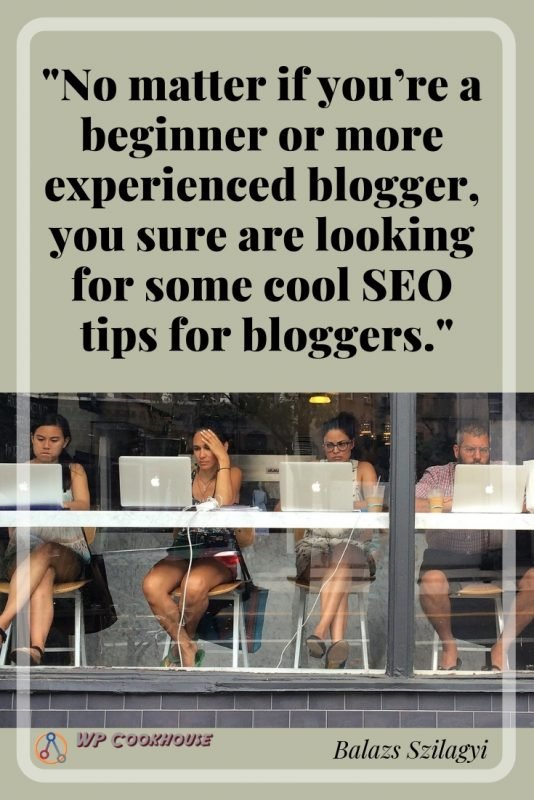 SEO Tips For Bloggers #7: Don't Overuse Tags
Using tags is an advanced SEO technique. The main problem I see here is that bloggers usually overuse tags.
Some people will tag every third word in their articles. This result in blogs with only 10-20 posts, having hundreds of tags. Inevitably most of these tags will have only one article, and this is considered a form of duplication for Google (no added value if only one article is tagged).
My general advice is to don't even start using tags before having at least 20-30 articles on your blog. As an example, as of writing this article, I have 45 articles published on this site, and using only three tags.
SEO Tips For Bloggers #8: Subscribe to Google Search Console
This is another free service from Google. You should in fact register your blog right at the first day of publishing.
This will give you insider information about what Google thinks about your blog. I find the most accurate rank checker is Google Search Console (SC), as you have all the data directly from Google.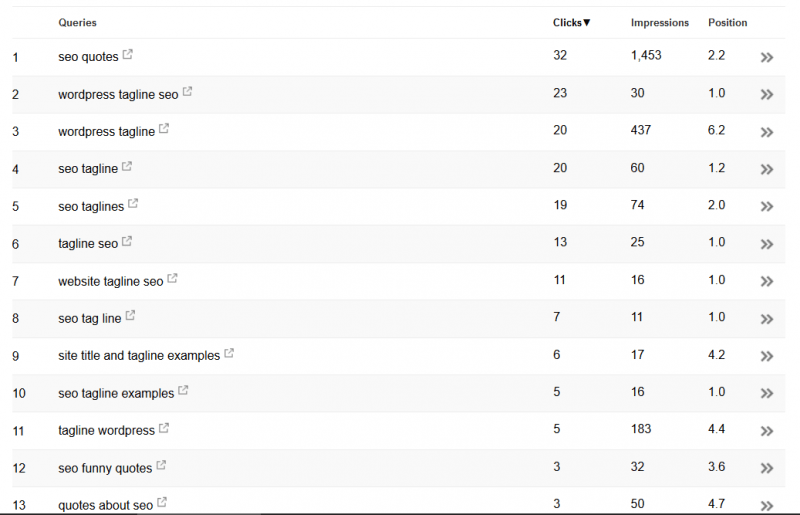 Even if you don't understand every aspect of Google SC, and just check your rankings every week or month, this will give you a much better understanding of what's happening with your blog in the search results.
Alternately, if you are aiming to get traffic from other search engines, you can register your blog in Bing Webmaster Tools, Yandex.webmaster, etc.
And The Most Important Thing About Blogging…
And don't forget, there is one key element to all successful blogs. You need to keep this in mind whenever you are targeting search engines or not. Just click on the link and find out what this is and how it can help you building a successful blog.