What has happened in the area of search engine optimization (SEO) in 2016? What are the new things about SEO in 2016 that you should be prepared for if you want to get better results? I've gathered 2016's most important news about SEO in this article.
First things first, let me clarify that on this website I primarily try and give practical SEO advice that could be understood by anyone, and could be used instantly instead of going into technical depths. If you need more technical data, you'll find some links at the end of this article.
All data shown here comes from actual experience. In most cases I'll attach images to them as well. I don't intend to bring up an SEO rumor just because many people talk about it. Something is right or not, you can only verify it with facts and data – and not with beliefs.
And another note: when I mention 2016 SEO trends, I mean the changes of Google.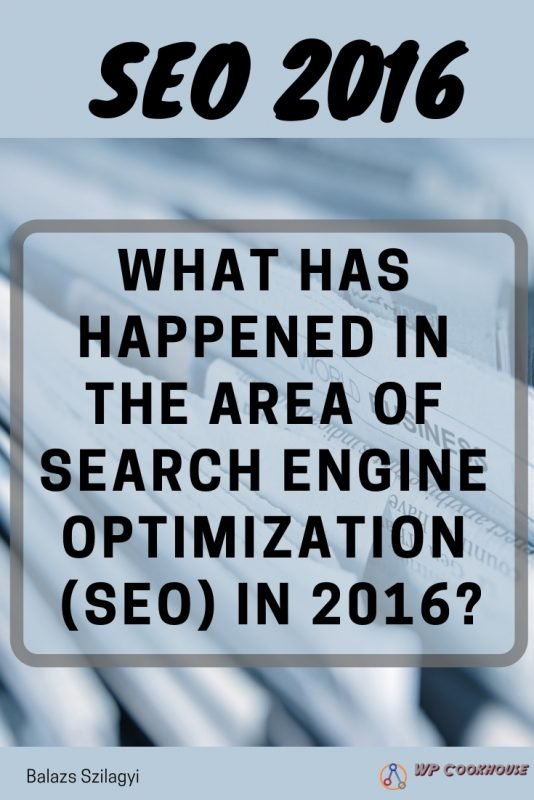 SEO News In 2016
First of all, I'd like to say it is not the first time that gathering information about these kind of changes presents some difficulty for me.
Roughly since 2011, since algorithms such as Panda and Penguin had gotten released, Google has been following a very specific direction. This direction means to highlight visitor-friendly websites while trying to decrease the number of those of using shady techniques, black-hat solutions etc.
In other words, no monumental changes have happened in the field of SEO for years now. If you share the same approach as I do and teach, you might experience some changes and actions from time to time – or even more serious ones regarding some keywords. But you shouldn't expect or make significant changes in terms of your website as a whole.
Certainly, there are changes around Google which do not apply fully to SEO (you will understand this later on), still they do locate the direction of SEO as well. So, let's see one by one where this search giant is heading to, and how we could meet its expectations in 2016 and later on.
SEO 2016: The Reorganization Of AdWords Ads
At first sight, AdWords ads do not have anything to do with organic SEO. However, from several aspects the change (of February 2016) of the number of paid AdWords ads and their allocation did rearrange and keep rearranging the scene.
The ads from the right side of the SERPs screen are missing. In case of more lucrative keywords Google now shows 4 ads above the first organic result instead of the previous 3, and this caused a significant change in terms of the organic possibilities as well.
In SEO we do not take paid AdWords ads into consideration, however, the number of clicks the paid results take away greatly affect the search results' efficiency.
In the end there is no doubt that Google wants to maximize the number of paid clicks. Translating this into the language of SEO, the number of clicks on organic results will logically decrease.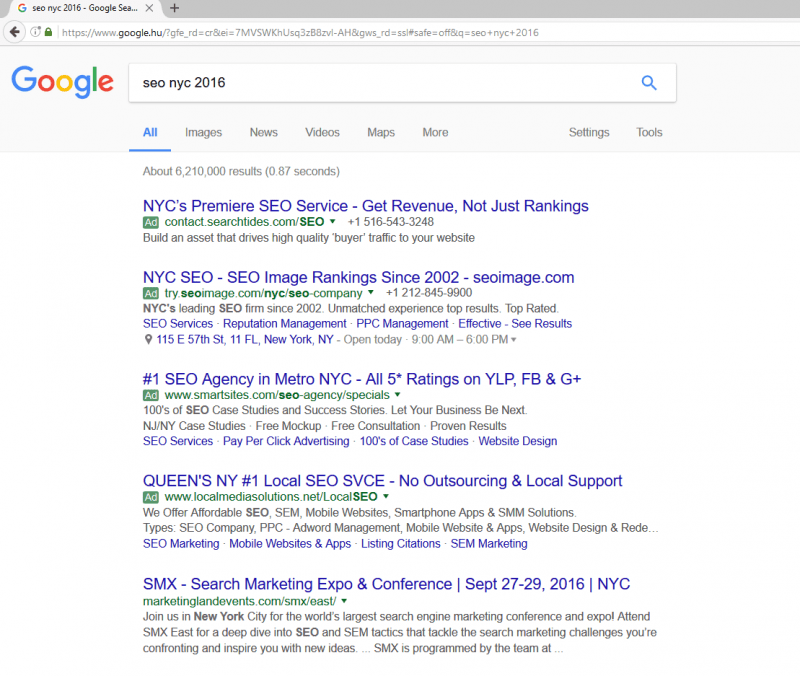 All this just confirms the efficiency of the approach I teach from the beginning. The fact that long term success cannot be achieved by focusing on 1-2 short tail keywords, instead, it can be achieved by targeting many long tail keywords. See my article about long tail keywords.
SEO 2016: Simplified Data In Keyword Planner
Probably the biggest change in SEO has happened late summer 2016. And that is the change in the keyword research tool I recommend the most up to this day, AdWords Keyword Planner.
While we got used to that we'd found quite accurate data about the monthly traffic of a keyword before, this has changed, and now we only get a significantly simplified version, an interval of a degree of ten.
This change is new enough so far to be able to write a summary with a lot of experience. Furthermore, as of publishing this article, you get around this quite easily by launching an AdWords campaign for even less then 1 buck a day.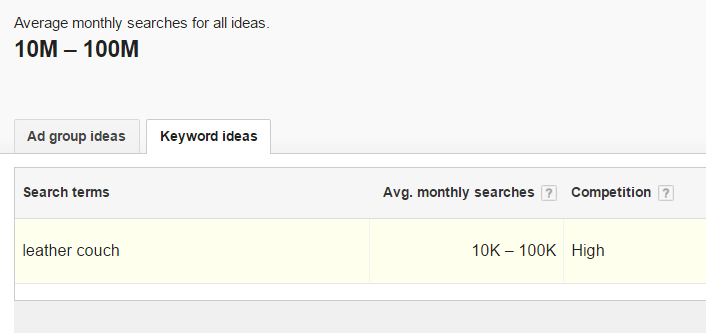 SEO 2016: Combined Keyword Data
Another change also in the Keyword Planner, that certain keywords and their monthly search volume are only shown combined.
One example is singular and plural use of keywords (e.g. leather couch and leather couches). Today, in case of these combined keywords Google simply does not show the one with the fewer searches, but a combined number instead.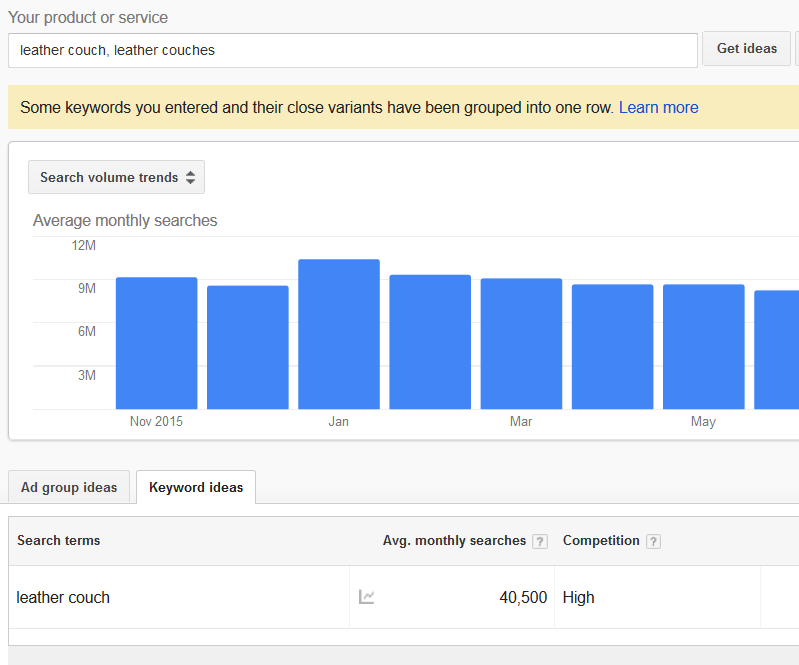 SEO 2016: Real Time Google Penguin Algorithm
Google lived up to their promise, they made Penguin part of their normal algorithm at the end of 2016.
What does this mean? Penguin has been around since 2012, Google created it against over-optimized links. So far, they used to run this algorithm periodically, usually once every half a year. So, if Google considered that someone was using spammy links, they would be given some kind of penalty. And even if they corrected their links, they needed another half year to get back to its original (or so) position in the SERPS.
According to Wikipedia, these Penguin updates had usually only affected 1-3% of all websites, so we certainly can't talk about a significant impact. It looks like you really have to operate in a spammy way to let Google cause yourself actual problems.
Anyway, it is worth to keep an eye on your competitors who use spammy links, also avoid using this kind of link building technique even more. The two most typical occurrences of this is getting too many links from websites that were only created for link building, the other one is over-using (nearly) only short tail keywords in your anchor texts.
SEO 2016: Major Changes
Three major changes have happened in 2016 so far in terms of search results, which mixed up the rankings. These changes happened on January 8, June 24 and September 1. But what is perhaps way more important than the actual dates is how they did, and how they did not affect the search results.
The most important information is that no one knows the answer exactly. We don't have exact information, the updates don't even have names. One thing we know for sure: on these three days the rankings of loads of websites have significantly changed worldwide.
I experienced some improvements, some setbacks, and all kinds of changes in the SERPs. Even regarding really strong keywords, long time stable rankings have changed drastically in just a matter of days.
All I can tell you (according to my personal experience) is that the update in June seemed to favor those websites where the contents are arranged in a particularly clear structure. The ones that are focusing on one topic crystal clearly and keep digressing to a minimum. This seemed to be the case also in the changes in September. I've seen loosing rankings with websites where the topic wasn't clear, or where they tried to rank for several different topics.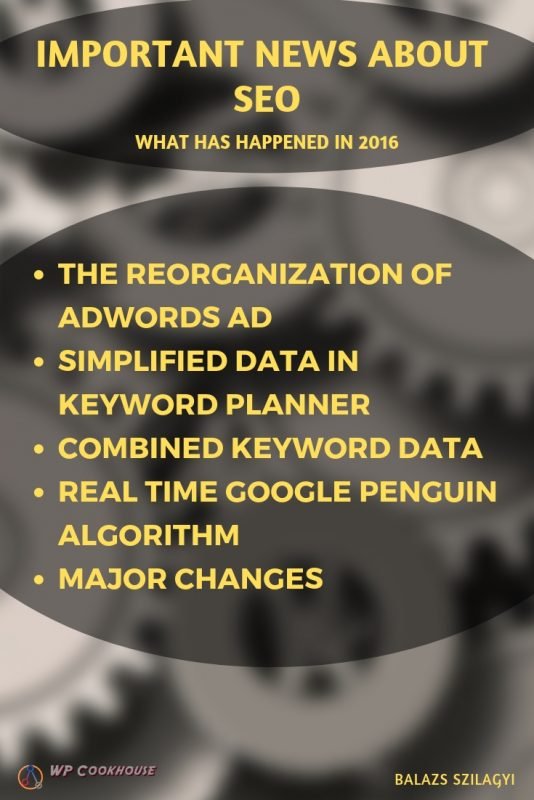 What's Next In 2016/2017?
All in all, I think everyone in the field of SEO should know about these changes. They can affect your operation to some extent, but as I've mentioned above, the main direction hasn't changed for years now.
If you are able to start a website with precise, well-defined content, to publish relevant content that takes the reader's interest into account and serves them well, also, to keep an eye on your off-site SEO – primarily social media and link building –, then even if you'll experience significant changes regarding some keywords, or sometimes serious disappointments, looking at the bigger picture, you will still be able to expect a continuously expanding traffic from Google.
Further Reading
If you're interested in fresher trends of SEO, read my article about search engine optimization 2017.
What was your experience with SEO in 2016?
What do you see in the area of SEO? Which changes affect you the most? If you have any SEO experience in 2106 that you'd like to share with us, so others could learn from that as well, please let us know in the comment section below. You could help a lot of people.