The Japanese restaurant theme for WordPress is a thematic theme made especially for Japanese cuisines. On the design, the color scheme is dominated with black and red- which is very classical Japanese restaurant theme. It creates a sense of Japanese culture as your viewers land themselves on the front page. Hence, there is no need too many effort in making your web pages look like a Japanese restaurant because it already is.
Taste of Japan – Japanese Restaurant Theme key features
This Japanese WordPress theme will portray perfectly the tasty dishes in unique presentation. It is visually attractive without any similar pattern on each page. the design is clean and creatively bring awesome impression to the visitors.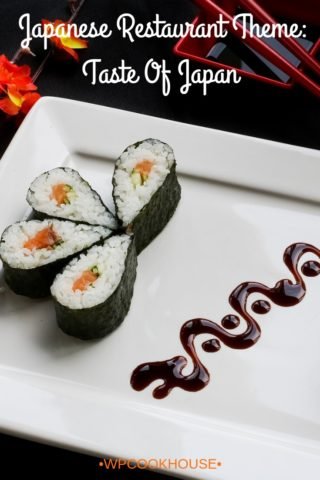 The theme is adjustable to publish special menus, events, and recipes plus customer testimonials. The blog page is also available. The system behind it makes any admin easier to organize and categorize the menus and promotions.
Unfortunately, the simple design is overloaded with menus and texts. People might get confused as to where they should see first when this is their first time. Apart from that, note that this Japanese restaurant theme for WordPress is created with search engine friendly system. The codes are made to help admin creates and inputs content in quick way but still represents attractive result. They are easy to change.
This Japanese WordPress theme can get your customers closer to the people behind the scenes, such as the chef, the staff and other press release that your business has experienced. A well thought detail lies on the calendar on the bottom of the page. It helps people who want to make reservation and let you know when you can prepare the table before their arrivals. Contact form and reservation form are another great features on the widgets.
LIVE PREVIEW
DOWNLOAD