Eldar theme is a multi purpose theme that you can adjust for any business type. Be it restaurants, agencies, hotels or wedding organizer, this one single theme can accommodate your business in entering the online world.
Eldar Theme key features
Special features of the Eldar theme are the massive short codes, unlimited colors, retina and responsive readiness. More than 20 short codes are available with 5 basic proposition of different colors. What's best, you can pre built the layout design.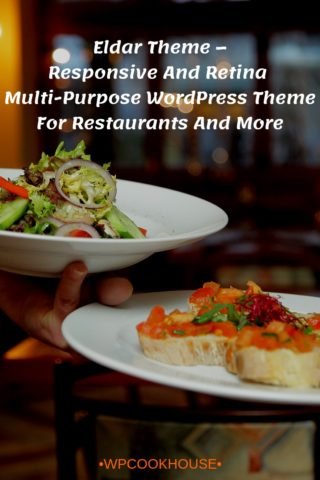 What we dislike on this theme is the font choices. Somehow, they do not blend with the background colors and the allover appearance. Hence, the output is not that elegant. It is more like simple and cheap design but with user friendly interface. There is a page for blogging which is very useful to display your business events, recipes, or guest blogging.
Another thing missing is the social media icons which are not included in the pack. Social media is extremely important these days that every web designer should consider. It saves an effort if the icons are already there. Plus, there is no subscription column or inquiry box. That makes a viewer have to perform more than a click just to ask a question or want a notification when they have a promo or discount.
Above all, Eldar theme is still perfect for business that need to be present in the virtual world without having to further interact with their customers. The theme is good for online directories because it gives complete information about a business, from what they do, where they do it and how they can be reached. For restaurants, this theme enables you to not only introduce your signature dishes, but gets your customers closer to the team who is working behind those lovely meals.
LIVE PREVIEW
DOWNLOAD